NEWS ARTICLE
643. 17 May 2017 Accessible Accommodation and Holidays for Disabled - Shropshire
Accessible Accommodation and Holidays for Disabled - Shropshire - Mereside Farm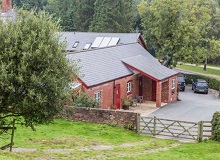 Great, recently added accessible B&B in Shropshire, click the link to find out more!
The B&B is situated in Ellesmere within easy wheeling of the Mere Visitor Centre and the town. The accessible cottage is one of three cottages set in the grounds of the old farmhouse and it has designated parking adjacent to the entrance. It has an attractive sheltered courtyard garden at the rear leading to a bricked pathway that takes you to the dining room in the farmhouse.
Mereside Farm B&B is accessible, it includes:
Wheelchair Accessible Shower Room
Grab Rails
Sufficient wheelchair access around bedroom (limited)
There is level/ramped access into accommodation.
To see more accessible accommodation in Shropshire, click here