NEWS ARTICLE
596. 18 April 2017 Accessible Hotels with Wet Room in Chester, Cheshire
Accessible Hotels with Wet Room in Chester, Cheshire - Macdonald Craxton Wood Hotel & Spa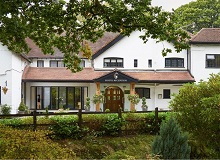 Looking for a great hotel in Cheshire that is accessible and modern? We've just added something that you need!

Nestling in 27 acres of Cheshire woodland, you wouldn't believe how close Macdonald Craxton Wood Hotel & Spa is to the M53, connecting to the M56 and onto Manchester and the rest of the UK. A beautiful secluded hotel and picture perfect wedding venue combined with outstanding comfort and accessibility.
The Macdonald Craxton Wood Hotel is accessible, it provides:
Wheelchair accessible shower room (shower in level access cubicle)
Grab rails in shower room
Sufficient wheelchair access around bedroom (would be limited for electric wheelchair users)
There is level/ramped access into accommodation.
To see more accessible accommodation in Cheshire click here
To see all the disabled holidays we offer in the UK click here