NEWS ARTICLE
946. 20 June 2018 Accessible Holiday Cottages in Crieff, Scotland - Ard View Cottage
Accessible Holiday Cottages in Crieff, Scotland - Ard View Cottage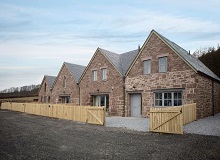 Looking for a modern, accessible cottage in bonnie Scotland for a little break? Then look no further, this incredible cottage features a fantastic location as well as great accessible features for wheelchair users such as wheel in shower and a lift to other floors! Click below to find out more.
This gorgeous farm cottage part of a larger complex reflects it's rural setting: local stone and timber, soft country tones on the walls, hints of Scotland in cushions, throws and rugs. A chilled-out space in which to unwind over a cup of tea or a cheeky glass of red, immerse yourself in a good book or snuggle in for the weekend with friends or family. Relax - the owners have thought of everything.
The Ard View Cottage is accessible, it provides:
Wheel-in Shower
Grab Rails in Shower Room
Accessible Lift Allows Access to Other Floors
There is level/ramped access into accommodation.
Have a great disabled holiday in Scotland!