NEWS ARTICLE
409. 11 January 2017 Disabled Holiday with Hoists, Idea for Disabled and Carer in Centre Algarve, Portugal
Disabled Holiday with Hoists, Idea for Disabled and Carer in Centre Algarve, Portugal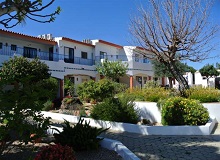 Looking for some fun and adventure in Portugal but need some accessible accommodation while you're there? Dont worry, we've got exactly what you need!
This 14-bedroomed complex located near Olhao in the Algarve, Portugal. Centre Algarve has been fully designed and developed to offer all the fundamental equipment and a safe and secure environment for the disabled holiday maker and their family. Located 2 minutes from Moncarapacho which is a small country town in the middle of an area which is home to orange orchards and horticulture. It exudes a calm, unhurried atmosphere of people going about their business in a relaxed and friendly way. The 'Centre' of Moncarapacho is a charming cobbled square alongside the church where you can sit and have a drink or a meal beneath the jacoranda and palm trees. The town offers all the basic facilities, including three good small supermarkets and a small local produce market. There are also several decent restaurants and plenty of pavement cafes.
There is wheelchair access to the whole of the ground floor area including the patio, Discovery Centre, Animal Enclosure and swimming pool. The swimming pool has a pool hoist with hammock or seat transfer into the pool.
Have A Great Holiday!