Gran Canaria - ATOL HOLIDAYS
Maspalomas, Gran Canaria


The sophisticated beach resort of Maspalomas, on the south east tip of Gran Canaria, offers more than 7.5 miles of powder soft sand and majestic sand dunes. Shopping, relaxing in the sun, eating al fresco and playing golf are top options in this sun-drenched oasis. Maspalomas is classed as a more up market resort with many 5 star hotels, luxury residences and the largest golf course in Gran Canaria. Most places are within strolling distance and, if going further, taxis are reliable and reasonably priced. More Resort Info....

If you are interested in wheelchair accessible holiday in this section and require further information then please do click on the get a quote button to receive a quote.
Seaside Gran Hotel Residencia
Maspalomas - 5 Star
Located just a few steps from the famous beach of Maspalomas, this luxury boutique hotel combines world-class comfort with all the amenities demanding guests have come to expect.
Salobre Hotel Resort & Serenity
Maspalomas - 5 Star
The Salobre Hotel Resort & Serenity is a 5 star hotel in the south of Gran Canaria, very near Maspalomas, in a perfect piece of the countryside, giving you a feeling of freedom and helping you to completely unwind and get away from it all.
Seaside Palm Beach Hotel
Maspalomas - 5 Star
Seaside Palm Beach is surrounded by a fabulous palm tree oasis on the edge of a nature reserve. In the immediate vicinity you will find a five-mile long golden beach and the famous dunes of Maspalomas - everything within easy walking distance.
Bull Hotel & Spa Costa Canaria
Maspalomas, San Agustin - 4 Star.
Hotel Costa Canaria & Spa is designed for adults only, it is located on the Playa de San Agustin beachfront, at the north of Gran Canaria.
eó Suite Hotel Jardin Dorado
Maspalomas - 4 Star
eó Suite Hotel Jardin Dorado is located in the golf course of Maspalomas, near the dunes of sand. It offers outdoor swimming pool and luxury junior suites with private garden, it has a small gymnasium, a sauna and, in winter and a heated swimming pool with hydro massage.
Sol Barbacan
Maspalomas - 4 Star
Sol Barbacan is located and only a couple of minutes away from the beaches of Playa del Inglés and Maspalomas. Renovated in 2015, the large-scale facilities and the apartments and bungalows make it ideal for families, couples and groups of friends.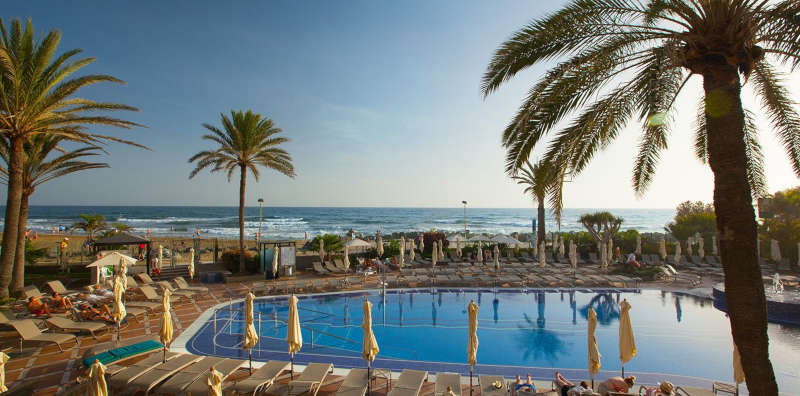 IFA Faro Hotel
Maspalomas - 4 Star
This hotel in Maspalomas stands out for its refined modern architecture, which fits in well with the spectacular lighthouse and the cosmopolitan atmosphere of the seaside promenade.
Club Vista Serena
Maspalomas - 3 Star
Situated in the south of Gran Canaria, in the resort of Maspalomas, set in serene and stunning surroundings, this is a friendly and relaxed self-catering resort where you will feel at home the moment you walk through the doors.