MENORCA - ATOL HOLIDAYS
Cala Galdana, Menorca


Cala Galdana is an ideal destination for families or couples looking for a peaceful quiet resort with excellent amenities. The resort is located at the base of the Algendar Gorge that helps create a dramatic landscape, of high cliffs covered with aromatic pine trees with spectacular views. More Resort Info....

If you are interested in wheelchair accessible holiday in this section and require further information then please do click on the get a quote button to receive a quote.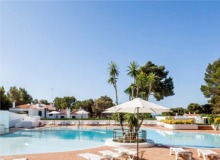 Ilunion Menorca
Calan Galdana - 4 star
Don't miss the Balearic Archipelago and the incredible island of Menorca. Dominating the hillside that leads to Cala Galdana, a spectacular beach with white sand and crystal clear waters, is hotel ILUNION Menorca.