Fuerteventura - ATOL HOLIDAYS
Below is list of disabled friendly accessible hotels in
Fuerteventura

.
If you are interested in wheelchair accessible holiday in this section and require further information then please don't hesitate to contact us.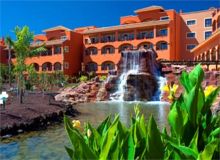 Sheraton Fuerteventura Beach Golf & Spa Resort
Fuerteventura - 5 Star
The Sheraton Fuerteventura is nestled in a residential district of Fuerteventura, surrounded by spectacular golden beaches, sparkling blue seas and the shopping and entertainment venues of the resort.
Hotel Elba Sara
Fuerteventura - 4 star
A striking and well-appointed hotel offering an array of amenities and a good choice facilities for both adults and children. The Elba Sara is situated in a picturesque beach front setting.
Hotel Elba Carlota
Fuerteventura - 4 star
Located directly on the beachfront with a golf course within touching distance. The hotel offers a lagoon style pool with separate childrens pool area, modern well equipped bedrooms and is perfectly suited to families.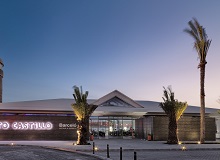 Barceló Castillo Club Premium
Caleta de Fuste - 4 Star.
The Barceló Castillo Beach Resort resides on the sandy beach of Costa Caleta, famous for its stunning dunes and great windsurfing opportunities. Being arranged in a peaceful village setting, these bungalows prove to be ideal for families looking for a sun and fun holiday.
Barceló Castillo Beach Resort
Caleta de Fuste - 4 star
Located on the seafront of Caleta de Fuste beach, 7 km from Fuerteventura airport. The island is well known for its 150 km of paradise beaches with fine white sand and turquoise water, and for being an excellent destination for windsurfing and a whole host of other water sports.
Barceló Fuerteventura Thalasso Spa
Caleta Da Fuste - 4 Star
The Barceló Fuerteventura Thalasso Spa is situated on the edge of the Caleta de Fuste beach. It has a large outdoor pool, great gym and luxurious spa area to enjoy during your stay.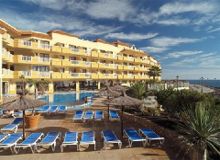 Aparthotel Castillo Antigua
Caleta De Fuste - 3 Star.
Sun and surf-loving families will appreciate this high quality complex. Overlooking the waterfront near to the hub of Costa Caleta, it`s a quick 500 metre stroll to the resort`s scenic quayside.

Elba Castillo
Caleta de Fuste - 3 star
The Elba Castillo complex offers something for all the family. A 3 star suite hotel, spacious and welcoming for family holidays, young people looking for an easy holiday or to practice sports on an island or couples wishing to explore the stunning island of Fuerteventura, declared a UNESCO Biosphere Reserve.
Gran Hotel Atlantis Bahia Real
Corralejo - 5 Star
The Gran Hotel Atlantis Bahía Real is situated in one of the most attractive corners of the island, on the edge of the Dunes of Corralejo Natural Park with 3,125 acres of finest, constantly moving white sand.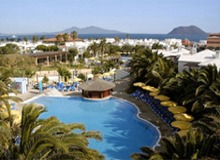 Atlantis Fuerteventura Resort Suite Hotel
Correlajo - 4 star
The Atlantis Fuerteventura Resort Suite Hotel is situated in one of the most popular resorts on the island where guests are offered one of the best beaches in the world.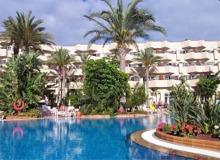 Barceló Corralejo Bay
Correlajo - 4 star
This thought to be one of the best hotels in the area. The Barceló Corralejo Bay is hard to fault, with customer satistaction being very high. This modern hotel offers high quality service and comfort for a relaxing and enjoyable stay.

Hotel Lobos Bahía Club
Corralejo - 3 Star.
Covering an area of 45.000 square metres, this apartment complex is in the town of Corralejo, (North Fuerteventura). The complex has one Bedroom and two bedroom, spacious, luminous and well appointed apartments.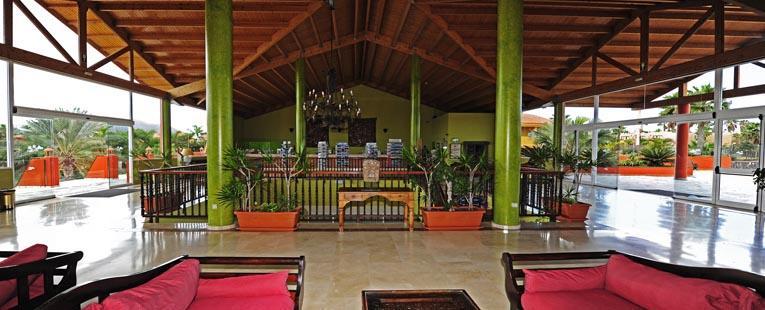 Fuerteventura Oasis Village
Corralejo - 3 Star.
An all-inclusive village complex featuring extensive gardens and situated near the town beach and resort centre offering great accessible holiday accommodation with high quality services.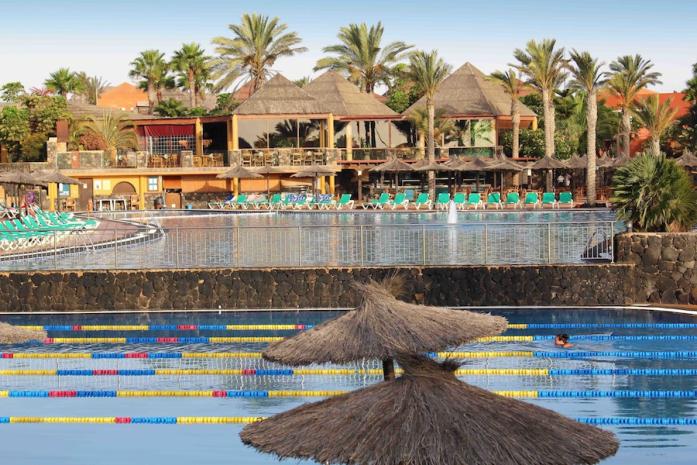 Fuerteventura Oasis Papagayo
Corralejo - 3 Star.
A unique complex of villas in a privileged location combining traditional offerings for families and an extensive range of sports facilities and amenities to ensure an enjoyable stay to suit all ages.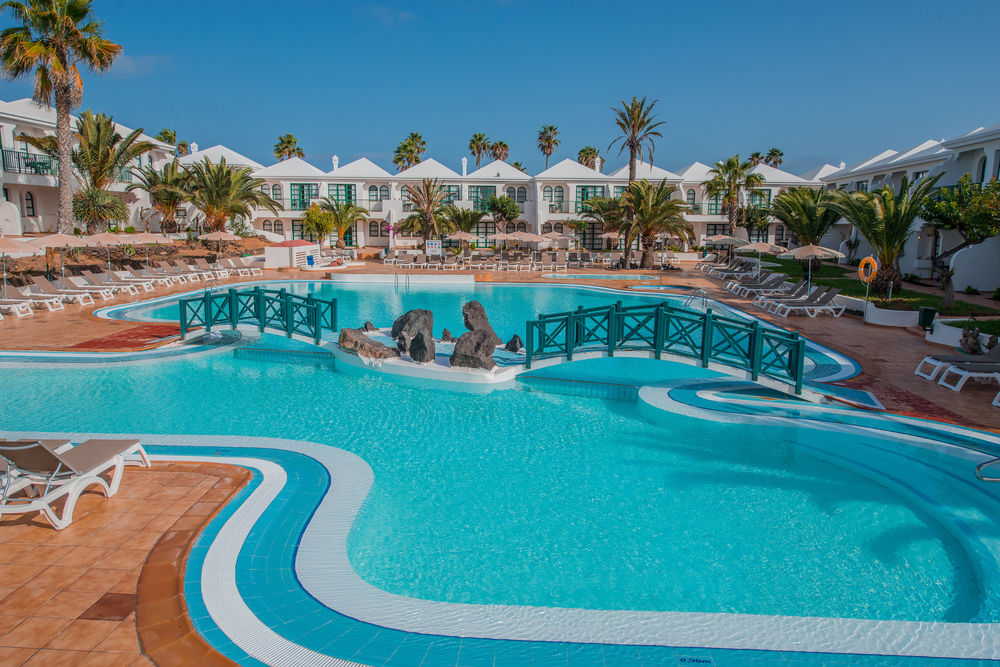 H10 Ocean Suites
Corralejo - 4 Star.
Some rates at H10 Ocean Suites are all-inclusive. These rates include onsite meals and beverages, and may include taxes and gratuities. Additional charges may apply for meals at some restaurants, special dinners and dishes, certain beverages, and other amenities.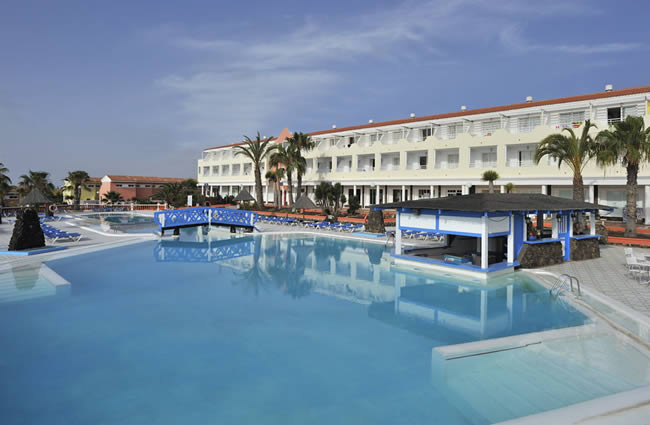 Globales Costa Tropical Apartments
Costa de Antigua - 3 Star.
The Globales Costa Tropical Apartments are located in the centre of the island of Fuerteventura, in the peaceful residential area of Costa de Antigua.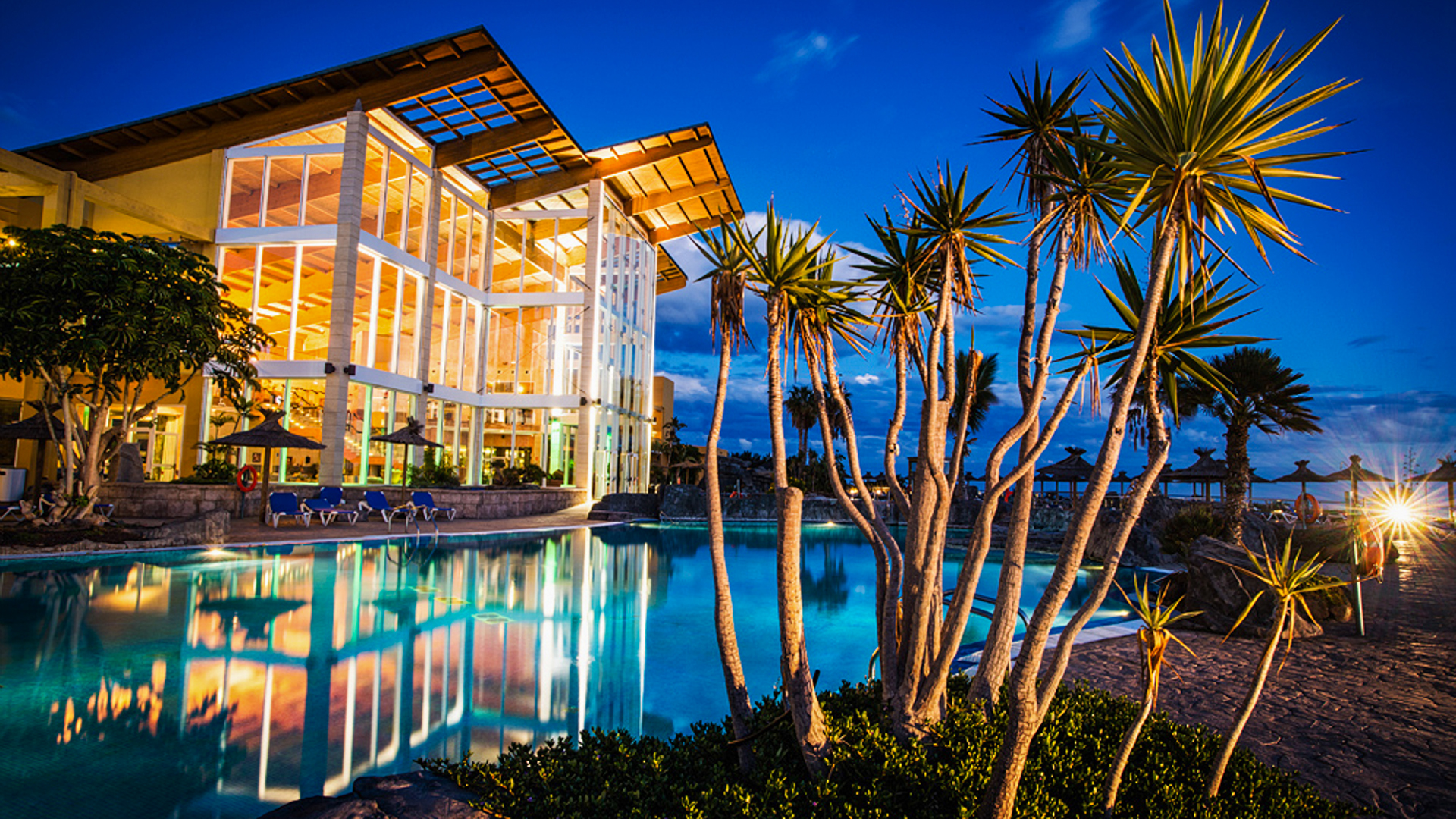 Ambar Beach Hotel and Spa
4 Star
The Hotel and Spa is located near the most beautiful beach in all of Fuerteventura; so whether guests are a couple looking for a romantic getaway or a family looking for some fun in the sun, they'll find this is the perfect location for a visual treat to accompany their holiday.
Hotel XQ El Palacete
Jandia - 4 Star
A unique hotel, charming, exquisite and with personalized attention in a hotel that has 54 exclusive rooms, where you can forget your routine, taste the finest cuisine and enjoy a break by the sea.