France - ATOL HOLIDAYS
France


Romance, sophistication, beautiful scenery, scrumptious food and brilliant wines. Holidaying in France conjures up all these images and more. Thereás something for everybody after making the swift flight across the Channel. Whether itás a romantic stroll in Paris, entertaining the kids at Disneyland, skiing in the Alps or sunbathing on the French Riviera, we all enjoy a stay with our Gallic neighbours. This is a varied and exciting disabled holiday situation. More Resort Info....

If you are interested in wheelchair accessible holiday in this section and require further information then please do click on the get a quote button to receive a quote.
Mercure Paris Opéra Garnier
Paris - 4 star
Mercure Paris Opéra Garnier is in Paris between the Opéra Garnier, Madeleine & Gare Saint-Lazare, but also a few steps from the famous Spring and Galeries Lafayette.
The Peninsula
Paris
The Peninsula is one of the most extravagant, luxurious hotels in Paris and is situated in a prime location just steps away from the famous Arc de Triomphe. This hotel is close to some of the world's most famous monuments, museums and luxury shopping district.
Fraser Suites Le Claridge Champs
Paris
Located along the Avenue des Champs-Elysees, the award-winning Fraser Suites Le Claridge Champs-Elysees, Paris is situated on one of the worlds most prestigious streets where the grandeur extends from Place de la Concorde to the magnificent Arc de Triomphe.
L'Empire Paris
Paris
Discretely located between the Louvre Museum and the famous Saint-Honore Street, L`Empire Paris becomes a privileged place for relaxing and for business travel.
Grand Hotel Normandie
Paris
A modern-furnished 3-star hotel offering all its guests a comfortable and relaxing stay. This hotel is ideally situated in the Opera district in close proximity to a number of famous Parisian sites.
Novotel Tour Eiffel Hotel
Paris
Located right on the waterfront of the city centre, the Novotel Paris Tour Eiffel features spectacular views of the Seine. It also offers easy access to many Parisian attractions, from shops and restaurants to world-famous monuments like the Pont Mirabeau and the Eiffel Tower.
Novotel Paris Les Halles
Paris
The hotel is situated in the historical centre of Paris and is ideal for holidays as a couple or family. Excellent access to the sights and attractions of the city.
Mercure Paris Gare Montparnasse
Paris
A modern hotel in the heart of Paris's Montparnasse neighborhood. Montparnasse Tower is 400 meters away. Don't be surprised if you get an arty vibe as you walk the neighborhood streets. This hotel has disabled access rooms with wheel in showers. There are accessible paths of travel, with handicapped parking available.
Best Western Prince MontMartre
Paris
A modern hotel within walking distance to the MontMartre. The Hotel offers wheelchair adapted rooms that sleep 1 person so this is perfect for the lone-traveller looking for exceptional value for money whilst in the centre of Paris.
Source Hotel
Paris
Another very modern hotel at the heart of the city and within very close walking distance to the MontMartre. With close Metro connections this Hotel is the perfect for those patrons wishing to travel the city. Ideal for families and couples to spend a relaxing holiday in one of Europes' most cultured cities.
Appart'City Confort Paris Grande Bibliotheque
Paris
A block from La Seine river, this modern apartment hotel is a 4-minute walk from the Bibliotheque François Mitterrand metro stop and 4.2 km from le Parc Zoologique de Paris. Airy studios with balconies and kitchenettes feature flat-screen TVs and coffeemakers.
Holiday Inn Express Paris-Canal de la Villette
Paris
The Canal de la Villette Holiday Inn offers soundproofed rooms equipped with air conditioning and a TV. They each have a private bathroom, and are serviced by a lift. Guests can enjoy traditional French cuisine and fish specialities at the restaurant located in the same building as the hotel. There is also a bar and a 24-hour reception.
Hotel Lyon Metropole
Lyon
Hotel Lyon Metropole offers a well-being area providing guests free access to an indoor and Olympic-size outdoor swimming pool. It is located on the banks of the Saône River, a 10-minute drive from the city centre. Views of the river or the swimming pool are offered from the contemporary-style accommodation.
Hotel Les Cigales, Nice
France SouthNice
In the charming atmosphere of a fully renovated hotel, in the heart of Nice, 150m from the sea and the casino Ruhl, l'Hotel Les Cigales offers you its hospitality.
Grand Hotel Belfry, Lourdes
France SouthLourdes
Ideally located at the foot of the Chateau Fort de Lourdes, in a green setting, close to the sanctuaries, the team welcomes you in a contemporary atmosphere 24 hours a day.
Hotel Le Glacier
France SouthOrange
Located in the historic centre of the quiet Southern town of Orange, this small, pretty, and friendly hotel, run by the same family for three generations, and restored and refurbished every year welcomes guests to discover the town of Orange.
Auberge de Cassagne Resort & Spa
France SouthAvignon - 4 Star
Hotel of charm and prestige in Pontet Avignon, the Auberge de Cassagne & Spa is located in the heart of Provence, at the gateway to Avignon. You can follow the wine route and discover Gordes and Saint-Remy-de-Provence.
Vienna International Dream Castle Hotel, Disneyland Paris Resort
Disneyland Paris
The hotel enjoys an enviable prestigious location at Disneyland Paris affording guests easy access to the wonderful world of Disneyland Paris. Paris city centre is just a 35minute train ride away.
Thomas Cook Explorers Hotel, Disneyland Paris Resort
Disneyland Paris
Located at the Disneyland Paris Resort, just an eight-minute shuttle bus ride away from the parks. This family-friendly hotel is uniquely themed around the adventures of the legendary explorer, Sir Archibald De Bacle.
Disney's Santa Fe Hotel, Disneyland Paris Resort
Disneyland Paris
Discover the wonder of New Mexico with its scorching sun, cactus and timeless landscapes, right here at Disney's Hotel Santa Fe! Big on atmosphere, low on rates, it's the perfect place to fiesta and siesta after a fun day out at Disney Parks.
Disney's Sequoia Lodge
Disneyland Paris
If you love the great outdoors you'll feel right at home at Disney's Sequoia Lodge. Surrounded by lush pines and at the edge of Lake Disney. There are plenty of ways to unwind here, whether it's walks by the lake, a leisurely swim or workout, dinner and drinks or, for younger explorers, a mini-adventure in the pool or play area.
Disney's Davy Crockett Ranch
Disneyland Paris
Disney's Davy Crockett Ranch surrounded by a lovely forest. Here kids will be able to participate in extracurricular activities with outdoor play areas and is ideally located within a 15 minute drive from Disney resorts. It also contains a tavern serving food and drink.
Disney's Hotel Cheyenne
Disneyland Paris
Disney's Hotel Cheyenne is an ideal stay for families with children containing children play areas and embracing a Wild West theme allowing for lots of family fun. Its also within a short 20 minute walking distance or a few minutes by free shuttle from the resort parks.
Disney's Newport Bay Club
Disneyland Paris
Enjoy a beautiful lake view at Disney's Newport Bay Club which is just a 15 minute walk from the resort parks or a few minutes by free shuttle. Relax at the hotels sauna, steam bath and swimming pools
Best Western Hôtel Grand Parc
Disneyland Paris - 3 star
Just 7 km from Disneyland Paris and very near the Asterix Park and Val d´Europe train station, the Best Western Hôtel Grand Parc combines an excellent location with high quality services.
Calm Aparthotel
Lille
Situated in the heart of Lille, Calm Appart Hotel is within walking distance of Euralille, Old Stock Exchange, and Lille Grand Square. Also nearby are Rihour Square and Palace of Fine Arts.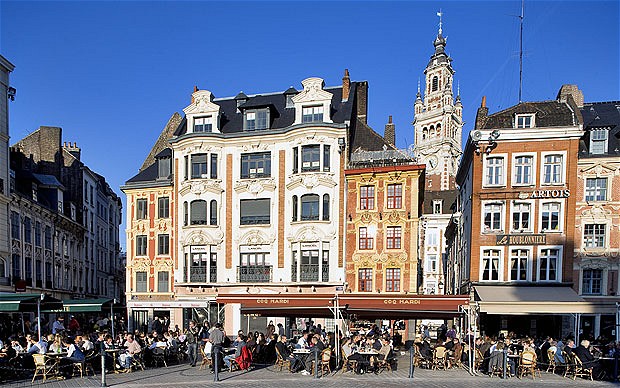 Novotel Lille Centre Grand Place
Lille
Take the Eurostar and discover the young and cultural city of Lille, whose Flemish influence can be seen not only in its architecture but also in the irrepressibly cheerful nature of its residents.
Hotel Crowne Plaza Lille - Euralille
Lille
In the heart of the city, the Crowne Plaza Lille Euralille hotel is situated opposite from Lille Europe Train Station and feet away from Lille Flandres Train Station. All guestrooms and suites are spacious and luxurious.