ITALY - ATOL HOLIDAYS
Venice, Italy


Renowned for its romantic charm, the entire city of Venice is listed as a UNESCO World Heritage Site. Its breath taking architecture and spectacular art entice millions to experience its history and beauty every year. From San Marco Square with the Dogeás Palace to the lively Jewish Ghetto, Venice can be both opulent and down to earth. The vaporetto boats in Venice are generally wheelchair accessible and very useful for getting from neighborhood to neighborhood and unlike other cities in Italy, there are no cobblestones in Venice. More Resort Info....

If you are interested in wheelchair accessible holiday in this section and require further information then please do click on the get a quote button to receive a quote.
Hilton Garden Inn
Venice - 4 star
Located in the vibrant mainland city, this Venezia Mestre hotel is located less than fifteen minutes from Venice Airport. With spacious accommodations and modern facilities, Venice is easy to explore via a ten-minute bus, which stops directly across from the hotel.
Hotel Palazzo Stern
Venice - 4 star
A few steps from Saint Mark's Square and from Accademia and surrounded by artistic beauties, the Hotel Palazzo Stern offers a unique and unforgettable experience that will bring you back in time. The breathtaking view from the terrace on the Grand Canal provides a scene of incredible romance and beauty.
Hotel Splendid Venice
Venice - 4 star
The Splendid Venice is a charming luxury hotel, as elegant as Venice herself. A place where passion, beauty and memory come together to create an unforgettable experience. The hotel enjoys a central yet quiet location just a short stroll – or gondola ride – from some of the city's iconic landmarks in the centre of Venice.
Hotel Donŕ Palace
Venice - 4 star
A classy, elegant, luxury boutique hotel, the Donŕ Palace is a four star property overlooking the Rio at the Doge's Palace with its famous Bridge of Sighs, just a few steps from Europe's largest drawing room, Saint Mark's Square. From the heart of the city's historic district to the pulse of the best shopping paradise, the Hotel Donŕ Palace is captivating and exceeds expectations.
Santa Croce Boutique Hotel
Venice - 4 star
Situated in the Sestiere di Santa Croce, in the most traditionally "Venetian" part of the city, the Santa Croce Boutique Hotel will allow you to explore beautiful churches and time-worn palazzos, where you can get up-close and personal with the authentic, extraordinary nature of the life of Venice and its inhabitants.
La Residenza Parisi
Venice - 3 star
La Residenza Parisi in Venice overlooks the Grand Canal, just steps from the hotel it is annexed with Hotel Santa Chiara ***. Featuring a perfect blend of ancient and modern, it is ideal for families, business travelers and for anyone who enjoys space, tranquility and comfort.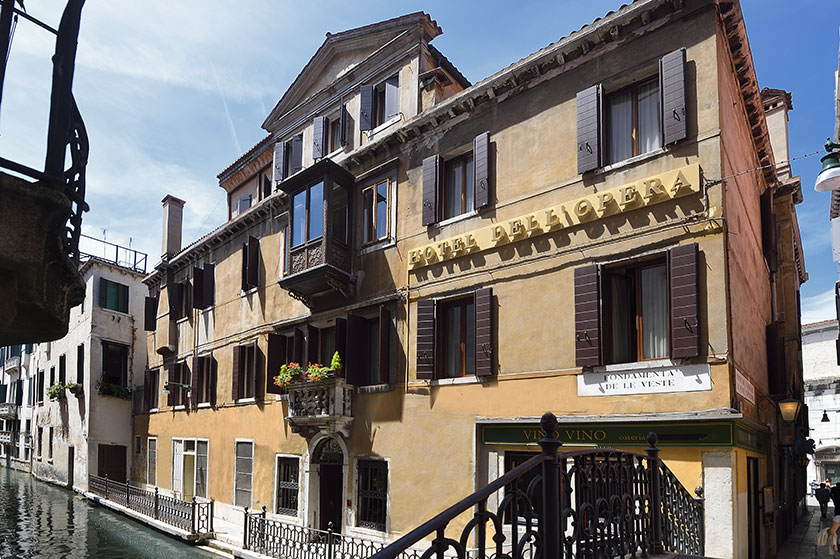 Hotel dell'Opera
Venice - 3 star
The Hotel dell'Opera welcomes its guests in elegant, refined spaces immersed in a warm and relaxing atmosphere, always with the service and comfort of the most prestigious 3-star hotels in Venice. The panoramic terrace overlooking the city's rooftops is available to guests at the Hotel dell'Opera.
Hotel San Zulian
Venice - 3 star
You will be enchanted by the location of Hotel San Zulian, just a few strides from Piazza San Marco and the Ponte di Rialto, in the historic and commercial centre of the city. A number of the rooms at San Zulian have a romantic view across the rooftops of Venice, including St. Marks bell tower.