OWNERS DIRECT HOLIDAYS IN GREECE
You can advertise your wheelchair friendly holidays accommodations with Disabled Access Holidays. If you have a wheelchair accessible holiday property which you think may be suitable then please see our Advertise With Us Page


owners direct abroad
Aksos Suites GreeceCrete
The Aksos suites are ECO-friendly self catering suites designed with the disabled person in mind. The Suites are located in the midst of an environmentally protected area and near the village of Agia. Crete, is an ideal holiday destination with exceptional beaches, picturesque towns, traditional villages, amazing cuisine and innumerable historic and cultural tourist attractions.
owners direct abroad

Sleeps 2-5 People

2 Bedrooms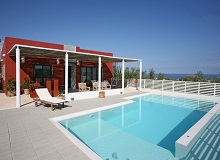 Villa Bamboo GreeceCrete
This new villa sits amongst olive trees on the outer limits of Pirgos, a little hamlet 15 mins walk from the calm village of Maleme. It is within an easy reach of shops, tavernas and a bus stop, and the beautiful beach of Maleme on the northern Crete coast. The Villa has it's own private 10m x 5m Swimming Pool and a spacious Terrace area looking with a view overlooking the sea.
owners direct abroad

Sleeps 3-8 People

3 Bedrooms
Villa Kivotos GreeceCrete
Villa Kivotos is a luxurious property located nearby Rethymno, combining modern facilities with traditional architecture. Locally sourced raw materials of Crete were used in the construction of the villa. It is surrounded in olive groves, with fantastic views of the Aegean Sea.
owners direct abroad
Delphini Studios GreeceKos
Delphini Studios are specially designed private ground floor studios, adapted for travellers with restricted mobility and wheelchairs, set in a charming olive grove in the heart of Kamari Bay, in Kefalos on the beautiful island of Kos in Greece. Perfect for getting away from it all, the studios are only 250 metres from the beach.
owners direct abroad

Sleeps 5-12 People

5 Bedrooms
Luxury Corfu Villa GreeceCorfu
This Luxury Corfu Villa is located in an idyllic, unspoilt area surrounded by magnificent views, soft landscapes of cypresses and olive trees, away from tourism, high on a hilltop and overseeing the Ionian Sea and the beautiful town of Corfu.