OWNERS DIRECT HOLIDAYS IN PORTUGAL
You can advertise your wheelchair friendly holidays accommodations with Disabled Access Holidays. If you have a wheelchair accessible holiday property which you think may be suitable then please see our Advertise With Us Page


owners direct abroad

>5 Bedrooms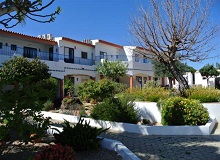 Centre Algarve
Moncarapacho, Algarve Portugal
This 14-bedroomed complex located near Olhao in the Algarve, Portugal. Centre Algarve has been fully designed and developed to offer all the fundamental equipment and a safe and secure environment for the disabled holiday maker and their family.
owners direct abroad

Sleeps 2-7 People

2 Bedrooms
Apartments in Funchal Ridge
Lagos, Algarve Portugal
These 2 privately owned apartments are located in the Funchal Ridge in the Algrave in Portugal. The apartments have been fully converted to a high standard and offer all the neccessary equipment for the disabled holiday maker and their family.
owners direct abroad

Sleeps 6-12 People

6 Bedrooms
Spokes Algarve Guest House
Malhao, Alcantarilha, Algarve Portugal
Truly wheelchair inspired accommodation. The facilities provided by this top quality guest house are an opportunity for disabled/ elderly folk to have time away being secure in the knowledge that all their needs both day and night will be met with care and a smile.
owners direct abroad

Sleeps 4-7 People

4 Bedrooms
Casa Luz do Sol
Vale Formoso,Algarve Portugal
Situated in the hills of Vale Formoso, just above the town of Almancil, central Algarve; this wheelchair accessible villa is well set up to offer the perfect holiday with beautiful landscaped gardens, a spacious pool areas and stunning panoramic views of the nearby coast.
owners direct abroad

Sleeps 2-6 People

2 Bedrooms
Paraiso Jardim Apartments
Almadena, Algarve Portugal
Sleeping a maximum of 18 people in 5 apartments. Ideal for families/friends wanting to holiday together but like to have their own space. Jasmine apartment has been modified to include mobility aids. It has a full Wetroom bathroom with enough room for wheelchairs to move about comfortably. The property has wheelchair access to the pool.
owners direct abroad

Sleeps >10 People

5 Bedrooms
Villa Casa do Lago - Foz do Arelho, Nr. Obidos, Silver Coast
Lisbon Portugal
Sheer luxury can only best describe this millionaire exclusively designed home set in a commanding position upon the ridge overlooking Obidos Lagoon and the mouth of the Atlantic beyond. A modern masterpiece from which to enjoy your holiday.