PORTUGAL - ATOL HOLIDAYS
Lagos, Algarve


Lagos is a popular town in the Barlavento region of the Algarve. Good surfing and relaxed beaches attract laid-back outdoor types, but the old townás 16th-century walls and Arab-built castle keep architecture-lovers happy, too. Thereás also a large marina with plenty of shops, bars and restaurants. Lagos has 2 accessible beaches for visitors with impaired mobility to enjoy. More Resort Info....

If you are interested in wheelchair accessible holiday in this section and require further information then please do click on the get a quote button to receive a quote.
Vila Gale Lagos Hotel
AlgarveLagos- 4 star
The Vila Gala Lagos Hotel, located in the Meia Praia zone, Lagos opened in April, 2009. Designed in a U-shape to maximise the view of the sea, this stylish superior 4 star hotel offers excellent facilities and gastronomy for a comfortable and enjoyable holiday.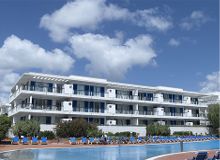 Marina Club Suite Hotel
AlgarveLagos - 4 star
Within sight of the marina, this hotel is just a short walk from Lagos historic centre and provides guests with luxurious accommodation close to Meia Beach. The marina with its shops and cafes is a short stroll away.
Onyria Palmares Beach House Hotel
AlgarveLagos- 4 star
Our hotel is located in Lagos, Algarve. Harmoniously integrated between the greens of the golf course and the brilliant blues of the ocean, the Onyria Palmares Beach House Hotel offers, at every moment, an intimate connection with nature. Designed by nature, Onyria Palmares stands out on the Algarve coast by its privileged location facing the blue scenery of the Alvor estuary, Meia Praia and Lagos Bay.
Belmar Spa and Beach Resort
AlgarveLagos- 4 star
The resort overlooks the beautiful beach of Porto de Mos and comprises a range of self-catering luxury accommodation with 24 hrs reception. From tranquil studios to two bedroom duplex apartments, plus a range of one, two and three bedroom apartments, Belmar Spa & Beach Resort offers an outstanding choice of accommodation.
Cascade Wellness Resort
AlgarveLagos- 5 star
Enjoying a truly unique and stunning cliff-top location in Portugal, Cascade Wellness Resort is one of the most luxurious 5-star hotels in the Algarve, offering an elegant and sophisticated experience. Located in the historic city of Lagos, in Portugal