Lanzarote - ATOL HOLIDAYS
Playa Blanca, Lanzarote


Playa Blanca is backed by volcanic mountains on the southwest tip of Lanzarote. Itís one of the island's biggest resorts but itís still quietly sophisticated. The smart marina covers cocktails, upscale dining and boutiques, while the promenade is lined with excellent seafood places. Meanwhile, livelier karaoke and disco bars can be found in the shopping centres. Playa Blanca has made leaps and bounds in regards to wheelchair accessiblity over the last ten years, making it a fantastic place for disabled travellers to visit. More Resort Info....

If you are interested in wheelchair accessible holiday in this section and require further information then please do click on the get a quote button to receive a quote.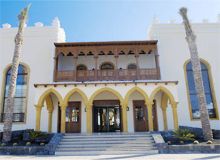 Gran Castillo Tagoro Family and Fun Hotel
Playa Blanca - 5 Star
Reminiscent of an ancient castle majestically presiding over the countryside, the Dream Hotel Gran Castillo & SPA Vitanova in Playa Blanca, the most prestigious area in the South of Lanzarote, offers unbeatable views onto the Atlantic Ocean and neighbouring islands.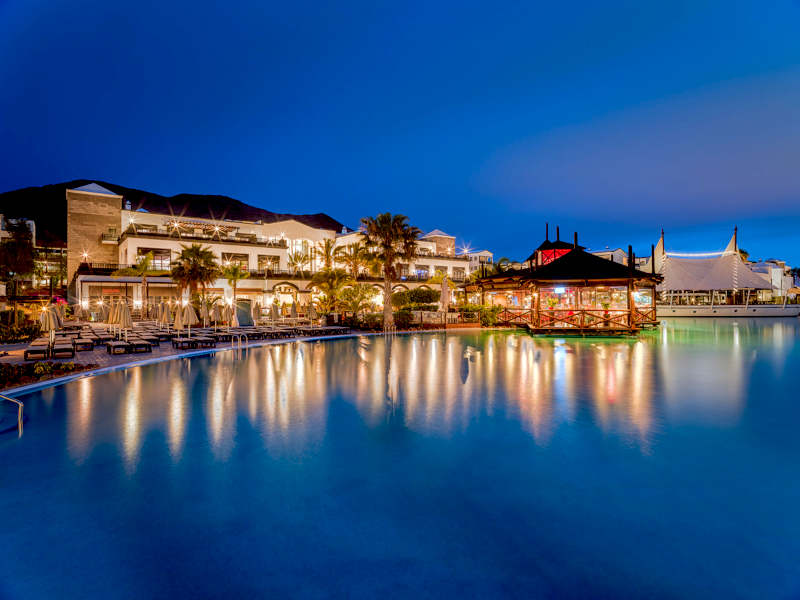 H10 Rubicon Palace
Playa Blanca - 5 Star
Standing on the seafront in Playa Blanca in southern Lanzarote, the H10 Rubicůn Palace is an iconic five-star resort that was recently renovated. It stands out for its impressive interior design that includes the most characteristic elements of the island and its colours: white, green and black.
Princesa Yaiza
Playa Blanca - 5 Star
Offers all the amenities one would expect of a 5 star hotel from beautifully appointed double rooms to a Suite, and all within a new design concept where landscape and architecture are creatively combined.
THB Tropical Island
Playa Blanca - 4 Star
The THB Tropical Island is located in Playa Blanca, a quiet fishing village in the municipality of Yaiza in the south of Lanzarote. With 8 swimming pools, 2 giant pools, 4 children's pools, a Splash Park children water park, 2 outdoor jacuzzi's, 2 pool bars, playground , 2 tennis courts, 2 multi-sports courts and 2 big show rooms for 450 people. The THB Tropical Island does not disappoint.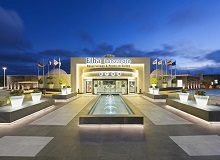 Elba Lanzarote Royal Village Resort
Playa Blanca - 4 Star
The Elba Lanzarote Royal Village Resort, located on the magical island of Lanzarote, a Bioshphere Reserve, is a complete holiday complex inspired by the culture of the Canary Islands, reflected in its architecture of a typical Lanzarote town.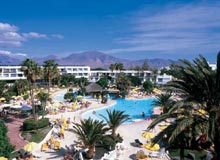 H10 Lanazarote Princess Hotel
Playa Blanca - 4 Star
The H10 Lanzarote Princess is located on the southern coast of Lanzarote, in the fishing village of Playa Blanca, close to the sea and opposite Fuerteventura Island.