MOBILITY EQUIPMENT HIRE IN THE UK
Mobility Equipment Hire Direct


...Where you can Book and Pay Online to hire the mobility equipment that you require.
Mobility Equipment Hire Direct offer Guaranteed delivery OF HOISTS,SHOWER CHAIRS, MOBILITY SCOOTERS, WALKERS,PROFILE BEDS to your hotel, apartment, home or villa in the UK, we cover London, Manchester, Birmingham, Leeds, Bristol, Newcastle,Liverpool, Edinburgh,Glasgow in fact ANYWHERE IN THE UK!
Alternatively, call us on
0800 644 6062
to get a quote us and to discuss your mobility equipment needs.
We can hire a range of mobility equipment to assist supporting people either at home or while on holiday in hotels, apartments, holiday camps such as Center Parcs, Butlins, Hoseasons etc.. ...
Wheelchairs, Standaids, mobility Scooters, Commodes, Bath Lifts, Shower Chairs, Walkers, Hoists and more
... are available for hire. We will arrange for your equipment to be delivered to your accommodation when you need it.
We have a selection of mobility products and care aids.
Contact us
for any equipment rental requests. Below is a selection of the products we can hire.
The Minuet® Profiling Bed Frame: Comfort and Independence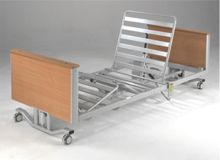 The Minuet® 2 four section electric profiling community bed frame brings key features and benefits to the Community and Care Home environments.
Pro-Contour® Advance profiling reduces pressure, sheer and friction whilst providing excellent postural support and comfort
Exceptional low height of 23cm benefits client transfer and safety
Disassembles into four parts to aid installation access
Safe working load of 180kg (28 stones)
Available in both Beech and Cherry effect finishes
A selection of pressure area care mattresses
Tx 150 Electric Hoist
The Tx 150 hoist is suitable for lifting up to 150kg and has a V-shaped base with four castors. The legs of the hoist can be closed when the hoist is not in use and are electrically controlled. The hoist is electrically powered and the battery is removable and can be charged either via mains while attached or separately. Includes a unique 4 point spreader bar that ensures the boom is held at a comfortable distance from the client during transfer. This also allows slings to be held at a wider angle, therefore providing a greater degree of comfort for the client when being lifted. In addition, the very low spreader bar position enables floor lifts without the need to alter the client's position.
Other key features include: -
Electric leg opening as standard
Improved lifting range
Easily controlled, safe, smooth, quiet lifting action
Removable dual charging battery system
Emergency stop and lower function
LED battery indicator
Large low friction castors for ease of movement
Disassembles into easily transportable sections
HS160 Standaid
Standard Features
Short legs - ideal for bathrooms / small spaces
Small footprint High quality castors
Removable foot plate, adjustable knee pad
Solid build Safe working load 160kg
High battery position - benefits manual handling
Control box records number of lifts
High placed emergency stop button
Service light
Ergonomic hand control
Good lifting range