PORTUGAL - ATOL HOLIDAYS
Albufeira, Algarve


Although the municipalityás tourist facilities and its nightlife are perhaps the most famous in the Algarve, these continue to exist alongside another reality: that of peaceful villages close-by where traditional handicrafts are still practised, such as the manufacture of the hand-painted decorative tiles known as azulejos, copper articles or rugs and mats made from esparto grass, surrounded by dryland orchards with almond trees in blossom and brightly-coloured orange groves. More Resort Info....

If you are interested in wheelchair accessible holiday in this section and require further information then please do click on the get a quote button to receive a quote.
Vidamar Hotel
AlgarveAlbufeira - 5 star
Overlooking the beautiful Salgados beach, this ideally located resort offers the perfect combination of relaxation, indulgence and family fun. With a welcoming and laid back atmosphere, a great range of facilities for all ages, the Vidamar Hotel makes for the perfect holiday choice for all the family.
Falesia Hotel
AlgarveAlbufeira - 4 star
Falesia Hotel is located close to Falesia Beach and the town of Albufeira and in the center of the Algarve. Falesia Hotel in acoteias surprise you with tranquil gardens and ample spaces, where one can soak the sun, tranquillity, fresh air and smell of the beautiful umbrella shaped pine trees.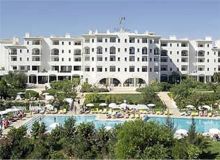 Aparthotel Vila Petra
AlgarveAlbufeira - 4 star
For quality and style Vila Petra is the ideal place to relax, providing guests with seclusion and privacy. Much thought has gone into the design of this quality, modern aparthotel, with granite floors, local stone and wood finishes.
Muthu Oura Praia Hotel
AlgarveAlbufeira - 4 star
Muthu Oura Praia Hotel is located in the heart of Oura, the historic centre of Albufeira in an extremely characteristic, vibrant and lively area within short distance to the extra ordinary beautiful beaches, shops and the most dynamic and famed strip of Albufeira.
Vila Gale Cerro Alagoa
AlgarveAlbufeira - 4 star
At the heart of Albufeira, this is an ideal hotel from which to explore the delights of the Algarve, including some great golfing facilities. The Vila Gale Cerro Alagoa provides comfortable accommodation with a variety of facilities all aimed at helping guests unwind and enjoy their stay.
Luna Clube Oceano
AlgarveAlbufeira - 3 star
Refurbished in 2015 with a modern, comfortable and stylish signature, Luna Clube Oceano is composed of different types of apartments, all pool view, fully furnished and equipped so you may feel at home!
Aqua Pedra dos Bicos
AlgarveAlbufeira - 4 star
Welcome to the Aqua Pedra dos Bicos, offering an adults-only experience for those seeking a peaceful stay, relaxing holiday or a romantic getaway as a couple.
Grand Muthu Forte De Vale
AlgarveAlbufeira - 4 star
A stay at the Grand Muthu Forte Do Vale offers bright, air-conditioned apartments and a modern and colourful interior, providing all of the amenities that you would expect from a self-catering apartment and so much more!
Muthu Clube Praia da Oura
AlgarveAlbufeira - 4 star
For holiday goers, the Muthu Clube Praia da Oura has become a home away from home, with many of them returning time and time again to enjoy the excellent atmosphere and some of the best sea views in all of Algarve.
Paraiso de Albufeira Aparthotel
AlgarveAlbufeira - 4 star
The 4-star Paraiso de Albufeira Aparthotel is a popular choice when it comes to Albufeira holidays. Whether you're travelling with your kids, partner or friends, there's something for everyone here. From a lagoon style pool to a Kids' Club, there's no wonder Paraiso de Albufeira Aparthotel is so popular.