CARIBBEAN - ATOL HOLIDAYS
Caribbean


Caribbean holidays offer a tropical getaway for anyone in need of some sun, sea and relaxation. Perfect for family holidays, weekend breaks or romantic getaways, from secluded beaches , all-inclusive resorts, UNESCO-listed sights, mountains cloaked in rainforests, and streets lined with ramshackle rum bars - the Caribbean has something for every kind of holiday.

Islands which belong to America, such as the US Virgin Islands (USVI) are required to comply with the Americans with Disabilities Act (ADA).therefore you can rely on hotels with suitable bathrooms and wide doorframes. Ramps and disabled lavatories are also available in public attractions there.Other destinations such as Barbados and Jamaica have all been commended for their disability awareness. More Resort Info....

If you are interested in wheelchair accessible holiday in this section and require further information then please do click on the get a quote button to receive a quote.
Hilton Barbados Resort
Barbados - 5 Stars
This resort enjoys a stunning location on the lush tropical peninsula of Needham's Point. A true tropical paradise, with exquisite ocean-facing accommodation and four fabulous Barbados dining outlets.
Accra Beach Hotel & Spa, Christ Church
Barbados - 4 Stars
The hotel is situated on Rockley beach which has a one mile boardwalk, perfect for an evening stroll. There are 3 restaurants, and the St Lawrence Gap nightlife area is a 5-min taxi ride. Special nights feature live jazz, barbecues and even fire-eating.
Radisson Aquatica Resort Barbados
Barbados - 4 Stars
Situated on the white-sand beaches and crystal-clear waters of Needham's Point, Radisson Aquatica Resort Barbados welcomes you with breath-taking island views and an exclusive position on Carlisle Bay.
Barbados Rostrevor Hotel, Saint Lawrence Gap
Barbados - 3 Stars
This award winning, family-run Rostrevor Apartment Hotel is set in the heart of the lively St Lawrence Gap district, so you`ve got restaurants, nightclubs and reggae lounges on your doorstep.The perfect beach front hotel in Barbados for the budget traveller.
Plumtree Club
Barbados - 3 Stars
Plumtree Club offers comfortable, secure, self-catering one and two-bedroom apartments on Rockley Golf Course. Plum Tree Club is conveniently located on the south coast of Barbados, just 6 miles from the airport, 4 miles from the capital city Bridgetown, and a short distance from St. Lawrence Gap and Oistins.
Courtyard Marriott
Barbados - 3 Stars
Journey to relaxation at Courtyard Bridgetown, Barbados, perfect for business retreats and leisure adventures alike. Only 8.6 miles from Grantley Adams International Airport, this modern hotel allows you to navigate the island with ease.
Iberostar Dominicana
Dominican RepublicPunta Cana - 5 Stars
Iberostar Dominicana provides a warm-weather getaway for those who are looking to spark their romance, spend quality time with their families, or just have some uninterrupted fun. Wake up in Playa Bavaro, a paradise that not only looks the part but brings you All-Inclusive dining, entertainment, and 5-star service.
Iberostar Punta Cana
Dominican RepublicPunta Cana - 5 Stars
The Iberostar Punta Cana hotel is a 5-star newly renovated all-inclusive accommodation. Located along the stunning Bavaro Beach in the island's northeast coast of the Dominican Republic, this luxurious hotel is designed especially for vacations for couples and for families with children.
Dreams Palm Beach Punta Cana
Dominican RepublicPunta Cana - 4 Stars
The Dreams Palm Beach Punta Cana is an exclusive resort on a two mile beachfront in Punta Cana. Surrounded by white sand beaches and delightful gardens, this fabulous hotel offers spacious guestrooms with modern amenities and an Unlimited-Luxury standard that has so many activities and opportunities to be pampered you will never want to leave!
Barcelo Dominican Beach Hotel
Dominican RepublicPunta Cana - 3 Stars
Boasting an incredible range of a-la-carte restaurants as well as bars, the Barcelo Dominican beach hotel is the ideal holiday destination for those looking to spend a relaxing holiday right on the Caribbean sea.
Dreams La Romana Resort & Spa
Dominican RepublicLa Romana - 5 Stars
On the magnificent southeast coast of the Dominican Republic, Dreams La Romana Resort & Spa presents an enchanting Caribbean haven of rare beauty and treasured tranquility on the best beach in Bayahibe for couples, friends and families.
Hard Rock Hotel
Mexican CaribbeanCancun - 5 Star
Situated on the beach in the best place to stay in Cancun, Mexico, The Hard Rock Hotel is in the perfect location in around all the action in Cancun. When you stay at the Hard Rock Hotel you`re on a journey through spine-tingling surroundings and crowd-pleasing amenities.
Now Jade Riviera
Mexican CaribbeanCancun - 5 Star
This family-friendly resort is situated next to the charming town of Puerto Morelos, on the north side of the Riviera Maya area. Set on a private beach, this luxury all-inclusive complex has 3 outdoor pools, 8 restaurants and a hydrotherapy spa.
Secrets Silversands Riviera
Mexican CaribbeanCancun - 5 Star
A modern marvel in contemporary design, this all-suite adults-only resort offers unlimited luxury with stunning ocean views, expansive manicured gardens, gourmet restaurants and a World class spa.
Moon Palace Golf & Spa Resort
Mexican CaribbeanCancun - 5 Star
Situated in Cancun's south shores, the Moon Palace Golf & Spa Resort All Inclusive resort is within 16 km of downtown Cancun. Functioning as a self-contained village, the immense resort attracts couples and families seeking activity-filled days and nights.
Excellence Riviera Cancun
Mexican CaribbeanCancun - 5 Star
This adults only world is a tropical fantasy that revolves around six winding pools, the clear Caribbean, well-appointed accommodations and you. Situated on a sugar white sand beach on Mexico`s Riviera Maya coast, Excellence Riviera Cancun is a classic all-suite Mediterranean-style resort of stucco, tile and marble.
Excellence Playa Mujeres
Mexican CaribbeanCancun - 5 Star
Nestled on a secluded two-mile stretch of powdery white-sand beach and voted one of TripAdvisor's "Best Hotels 2012", this luxurious and romantic all-inclusive resort is exclusively for adults. Boasting spacious accommodation and a wide range of facilities, including a variety of la carte dining options and a relaxing spa offering the ultimate in pampering.
Finest Playa Mujeres
Mexican CaribbeanCancun - 5 Star
Finest Playa Mujeres is the only all-inclusive luxury family friendly resort in greater Cancun. When you and your loved ones come to Finest Playa Mujeres, you enter an all-inclusive world within a world. With spacious family suites featuring an additional room for children plus amenities and activities designed for both adults and kids, every member of the family can create the vacation of their dreams.
Occidental at Xcaret
Mexican CaribbeanPlaya del Carmen - 5 Stars
The Occidental Grand Xcaret's breathtaking surroundings await you less than an hour South of Cancun International Airport. Premium comfort and service ensured at this all-inclusive resort.
Royal Hideaway Playacar Resort
Mexican CaribbeanPlaya del Carmen - 5 Stars
The Royal Hideaway Playacar is a place where service and style come together in grand fashion. The resort is ideally located in 13 acres of lush, tropical foliage that opens onto the most beautiful stretch of beach on the Yucatan Peninsula.
Iberostar Grand Paraiso
Mexican CaribbeanPlaya del Carmen - 5 Stars
Sitting on the Caribbean coast of Mexico's Riviera Maya is the all-inclusive, adults-only Grand Paraiso, which features a unique blend of architectural styles and thoughtfully placed interior gardens.
Occidental Grand Cozumel
Mexican CaribbeanCozumel - 5 Stars
Nestled in a secluded nature preserve on the southern side of Mexico's famed Cozumel Island, the Occidental Grand Cozumel will make you feel like you've stepped into your own private hacienda by the ocean.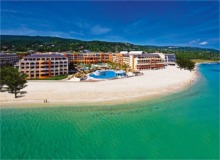 Iberostar Rose Hall Beach
JamaicaMontego Bay - 5 Stars
The Iberostar Rose Hall Beach hotel is an all-inclusive luxury 5-star accommodation where guests can relax, play sports and enjoy the music and atmosphere. Located in the heart of Rose Hall where guests can experience traditional Jamaican life.
Holiday Inn Resort Montego Bay
JamaicaMontego Bay - 4 Stars
This family resort sits on the edge of a half-mile stretch of white sand beach, a 15-minute drive from the lively resort of Montego Bay where you will find wheelchair friendly shops, restaurants and bars. Free Wi-Fi is available throughout. You can enjoy free meals and drinks in the resort's 4 bars and 4 restaurants and grills.