CYPRUS - ATOL HOLIDAYS
Limassol, Cyprus


A busy port on the south coast of Cyprus Limassol can easily match the capital, Nicosia, for cosmopolitan buzz and it can keep the pace with Ayia Napa in the nightlife stakes. And the beach life is on a par with any of the island's top sandy stretches. More Resort Info....

If you are interested in wheelchair accessible holiday in this section and require further information then please do click on the get a quote button to receive a quote.
Ajax Hotel
Limassol - 4 Star
The Ajax Hotel lies in the heart of the cosmopolitan city of Limassol, within walking distance from the seafront promenade, midway between Larnaca and Paphos airports. The four-star Ajax Hotel consists of 170 elegantly decorated rooms, offering an array of amenities and sophisticated accommodation.
Parklane Spa & Resort
Limassol - 5 Star
Parklane Spa & Resort is surrounded by lush green, landscaped gardens, enhanced by the vivid blue of the sea. Boasting a beachfront location this hotel is truly unique and deserving of its world-class status.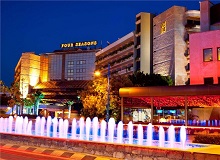 Four Seasons Hotel
Limassol - 5 Star
The prestigious independently owned and operated Four Seasons Hotel lies on a sandy beach east of Limassol approximately midway between the airports of Larnaca and Pafos and only a few minutes drive from the city centre. This five-star resort is the pinnacle of luxury & style, combining impeccable facilities with world class hospitality and service.
Louis Royal Apollonia Beach
Limassol - 5 Star
This hotel has undergone a full renovation of all rooms, suites and public areas and offers a new island shaped pool and a new children's pool with water games. The hotel offers its guests an inspiring upscale retreat in the heart of Cosmopolitan Limassol.
St Raphael Resort
Limassol - 5 Star
The Five Star St Raphael Resort is conveniently located only 5 minutes' walk away from the best fine dining, beach restaurants, Chinese, Japanese and or fusion restaurants in Limassol Cyprus. St Raphael is your perfect choice for business, leisure or spa visits to Limassol Cyprus.
Poseidonia Beach Hotel
Limassol - 4 Star
It is an upscale hotel located in a prime location in Limassol Bay, between the areas of Yermasoyia and Amathus. Our hotel is surrounded by stunning landscaped gardens and offers an idyllic retreat for a relaxing getaway in Cyprus.