CZECH REPUBLIC - ATOL HOLIDAYS
Czech Republic


A historic jewel at the heart of Europe, the Czech Republic packs a sizeable punch for such a small country; from majestic castles to medieval towns, elegant spa resorts to scenic national parks, it has much to offer international visitors. It is also the birthplace of the world's finest beer. Catching the last gasps of the summer heat around 15 °C in August and September, and escaping the worst of summer rains, you can visit during the Czech Republic's "Indian Summer". At June and July, the temperatures are at their best, reaching up to 20 or 25 °C. More Resort Info....

If you are interested in wheelchair accessible holiday in this section and require further information then please do click on the get a quote button to receive a quote.
Barceló Brno Palace
Brno - 5 star
The Barceló Brno Palace is an urban hotel, with innovative design and décor, boasting a perfect location in the centre of the city of Brno, capital of South Moravia. The main tourist destinations such as Špilberk Castle and the Cathedral of Saints Peter and Paul are at a short distance from the hotel.
Alcron Hotel Prague
Prague - 5 Star
Decorated in Art Deco style, this hotel is ideally situated very close to Wenceslas Square in the heart of Prague and close to all the main sights and offers all the comforts you would expect in a 5* hotel.
Iris Hotel Eden
Prague - 4 Star
Iris Hotel Eden is a four-star hotel located in the area of Prague, located in the north of the Eden Arena - home stadium of the famous Czech football club "Slavia Prague". Right next to the hotel there is a shopping centre and a tram stop that takes you directly to the Prague Castle.
Novotel Praha Wenceslas Square
Prague - 4 Star
Novotel Praha Wenceslas Square is a modern and stylish, non-smoking hotel with newly renovated public areas. Located in the historic Prague, a short travelling distance from the Wenceslas Square, National Museum, and Prague Convention Centre.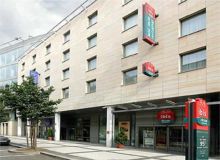 Ibis Praha Wenceslas Square
Prague - 3 Star
Centrally situated off Wenceslas Square, this hotel is fully accessible and is ideally placed for sight-seeing and the night-life. Very good accessibility around the hotel, small bedrooms with well adapted spacious bathrooms with wheel-in showers with wall mounted shower seat.
Hotel Atlantic
Prague - 3 Star
The Prague Old Town with Charles Bridge and other places of interest are reachable by walk within several minutes.` The ground floor of the Hotel Atlantic has a cozy lobby bar, a winter garden with a billiard and a restaurant Fiesta opened daily for a breakfast and lunch.