GRENAA - ATOL HOLIDAYS
Copenhagen, Denmark


Renowned as the happiest city in the world, Copenhagen is a hub of meandering streets, colourful buildings and laid-back crowds. While the Danish concept of hygge has made this destination popular, the locals will tell you that its charm is down to much more than a feeling of cosiness. Welcome to a city that is as aesthetically pleasing as it feels á from its candlelit cafás to its beautiful beaches. A truly beautiful disabled holiday resort.

If you are interested in wheelchair accessible holiday in this section and require further information then please do click on the get a quote button to receive a quote.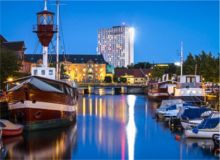 Radisson Blu Scandinavia Hotel
Copenhagen - 4 Star
The hotel is just a stroll away from Copenhagen's many attractions. With 4 restaurants, one of them appointed by the Guide Michelin, 3 bars, Northern Europe's largest casino and a well known fitness center, your adventure can already begin at the hotel.
Scandic Copenhagen
Copenhagen - 4 Star
Scandic Copenhagen, one of the largest hotels in Denmark, is centrally located in Copenhagen and enjoys a scenic setting with views of the lakes, and just around the corner is shopping and sights, such as Tivoli Gardens.
Tivoli Hotel
Copenhagen - 4 Star
The Tivoli Hotel is a modern, colourful, accessible hotel, located in downtown Copenhagen. The hotelís great location puts it nearby Tivoli Gardens amusement park, Zoologisk Have, and Copenhagenís central shopping street StrÝget. Copenhagen Central Station and public transport are within easy reach.