Egypt - ATOL HOLIDAYS
Sharm el Sheikh, Egypt


The two things that Sharm el-Sheikh has become famous for is the quality of its nightlife and its scuba-diving. Upmarket and affordable bars and clubs are open into the early, early hours throughout the town. Hit the markets and malls of Sharm el-Sheikh to buy jewellery, leather and more familiar tourist fare. Whatever catches your eye, make sure you haggle over the price. Those wanting to find out more about Egyptás fascinating past, can rise early and head into the desert. Mount Sinai and the nearby St Catherineás Monastery boast histories stretching back thousands of years. Sharm el Sheikh disabled holidays have so much to offer, your trip here will never get boring.

If you are interested in wheelchair accessible holiday in this section and require further information then please do click on the get a quote button to receive a quote.
Royal Moderna Sharm
Sharm El Sheikh - 5 star
The Royal Albatross Moderna is a beautiful multi award winning resort in the stunning Nabq Bay area of Sharm. The resort is extremely luxurious with one of the largest selections of dining and bars seen in Sharm with its New Columbus coffee bar, White Elephant Sushi Bar and Irish Pub to compliment its already impressive range of bars and restaurants.
Rixos Resort
Sharm El Sheikh - 5 star
Rixos Resort, Sharm El Sheikh is located in Nabq Bay where guests can experience stunning views of the Gulf of Aqaba and Tiran Island. The resort is just 8km from Sharm El Sheikh International Airport and a short distance from a variety of local attractions and popular activities to choose from.
Maritim Jolie Ville Royal Peninsula Hotel & Resort
Sharm El Sheikh - 5 star
This luxury resort adjoins its own 18 hole PGA championship course and covers 200,000 sqm of private, landscaped grounds situated at a highly desirable location between Naama Bay and the airport. The transfer time from the airport is around 30 minutes and Naama Bay is only 3 km away.
Sharm El Sheikh Savoy
Sharm El Sheikh - 5 star
The Savoy Sharm El Sheikh, in a setting of great natural beauty and blessed with year round sunshine, is a truly amazing location in which to experience the unrivalled personal service that has become synonymous with the name of Savoy.
Tropitel Naama Bay Hotel
Sharm El Sheikh - 5 star
A perfect centrally located hotel, with great facilities, the resort is the perfect location on the coast of the Red Sea.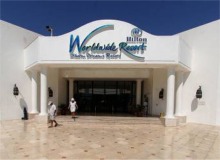 Hilton Sharm Dreams Resort
Sharm El Sheikh - 5 star
Located in Naama Bay, 15 minutes from Sharm El Sheikh, the resort is a haven for watersports, with its onsite diving centre, casino and 7 pools. Children will love the Kids' Club, and the water park and private beach are just 200 metres away.
Hilton Sharks Bay Resort
Sharm El Sheikh - 4 star
Hilton Sharks Bay Resort is ideally situated on the southern tip of Sharm El Sheikh in the stunning Sharks Bay area. This hotel offers an informal and lively atmosphere as well as superb leisure facilities.
Xperience St.George Homestay
Sharm El Sheikh - 4 star
Nestled on a tranquil hill in Sharm El Sheikh, Xperience St. George Homestay offers an exceptional privacy and exclusive 'home away from home' experience with cosy ambience and fine hospitality.