MAJORCA EAST- ATOL HOLIDAYS
Majorca East

- The quietness and laid-back vibe of the east is exactly the reason why a number of high-profile people have made it their home or second residence over the past decade or so. Boris Becker chose Arta; some of Abba's original band members have homes along the east coast; and Jon Bon Jovi, Julian Lennon and Emily Blunt all spend time here. More Resort Info....

If you are interested in wheelchair accessible holiday in this section and require further information then please do click on the get a quote button to receive a quote.
Protur Biomar Gran Hotel & Spa
Majorca EastSa Coma - 5 Star
The 5-star Protur Biomar Gran Hotel & Spa is a splendid hotel in Sa Coma. It is next to the Sa Punta de n'Amer natural park and only 300 metres from Sa Coma beach, Majorca.
Protur Playa Hotel & Spa
Majorca EastSa Coma - 4 Star
The Protur Sa Coma Playa 4-star Hotel is ideally located next to the Punta de n'Amer natural park and is only 300 metres away from Sa Coma beach. The hotel has plenty of facilities for guests to enjoy including 2 swimming pools, pool bar, gym and a sauna.
Aparthotel Protur Palmeras Playa
Majorca EastSa Coma - 4 Star
This aparthotel situated a few metres from the beach of Sa Coma and only 500 m from the picturesque port of S´ Illot, is an ideal choice for a self-catering beach break.
Blau Mediterraneo Hotel
Majorca EastSa Coma - 4 Star
This adult only hotel offers elegance and quietness by the sea and is perfect for a holiday vacation. The hotel is located at the beach front of Sa Coma Beach and overlooks the pine wood of Punta d Amer. There is direct access to the beach promenade from the pool area.
THB Sa Coma Platja
Majorca EastSa Coma - 4 Star
Located in Mallorca's eastern region. The Hotel has a privileged location in the heart of Sa Coma on the beachfront - one of the most spectacular beaches in Mallorca, close to the natural reserve Sa Punta de N'Amer full of autochthon fauna and flora.
Protur Vista Badia
Majorca EastSa Coma - 4 Star
This 4* aparthotel is one of the largest resorts in Mallorca overlooking a large lagoon pool surrounded by gardens, offering facilities for all ages, couples and families.
Cala Palia Sa Coma Playa Apartments
Majorca EastSa Coma - 3 Star
All Inclusive accommodation in the the cosmopolitan area of Sa Coma in the east of the Island. It is situated 25 m from the beach and promenade of Sa Coma, with excellent facilities and a very high standard for its rating.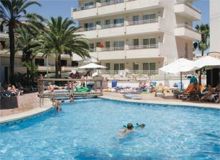 Aparthotel Cap De Mar
Majorca EastCala Bona - 4 Star
The Cap de Mar is located upon the beach-side promenade and is only a stroll away from the picturesque fishing harbour of Cala Bona, near Cala Millor.
Marins Cala Nau
Majorca EastCala Millor - 4 Star
Constucted in a delightful area of Cala Millor, and only 150 metres from the beach. You can appreciate the family touch and he tranquility that reaches every corner of this hotel in Cala Millor and which was last renovated in 2014. The fine eating, varied entertainment and quality of the personal service provided will make your holiday even better than you dreamt it would be.
Marins Playa Suites
Majorca EastCala Millor - 4 Star
Just a few steps separate the Mediterranean Sea from the spectacular terraces and unparalleled swimming pools of the Marins Playa Suites. The modern design and relaxed atmosphere are ideal to enjoy a remarkable holiday as a couple and disconnect from everything for a few days in Cala Millor.
Marins Playa
Majorca EastCala Millor - 4 Star
Every year children, young people and adults make their dream holidays come true in Marins Playa, one of the most commendable hotels in Cala Millor. Its installations, designed with the whole family in mind, make it the ideal destination for those of you who want to get the maximum enjoyment for a few days holiday in a perfect location.
Garbi Aparthotel
Majorca EastCala Millor - 4 Star
The hotel is located just few minutes from the town centre and just 400m to the beach. Hotel is situated in a beautiful residential area in Cala Millor. The hotel offers good wheelchair access throughout key areas. Bathrooms have been significantly adapted and bedrooms offer room to manoeuvre a wheelchair and may feature some adaptations.
Hotel Iberostar
Majorca EastCala Millor - 4 Star
The Hotel Iberostar, Cala Millor is an exclusive adults-only hotel in Cala Millor, Majorca, with 171 newly furnished rooms, designed for a unique and comfortable experience. Located by the Waterfront promenade close the beach, it is ideal for honeymoons or romantic retreats.
Hipotels Bahia Grande
Majorca EastCala Millor - 4 Star
A modern and functional apartment block surrounded by pine trees and situated on the front line of the Bahia of Cala Millor.
Cala Millor Gardens
Majorca EastCala Millor - 3 Star
An accessible hotel in a mainstream holiday resort. 250 Metres from beach. Less than thirty miles from Palma International Airport.
Hotel Sumba Borneo
Majorca EastCala Millor - 3 Star
The Sumba Borneo has been created into a fine holiday complex by combing two hotels. Guests will appreciate the beach-side location and enjoy the wonderful food, which is often given rave reviews.
Hotel Club Martha
Majorca EastCala D'Or - 4 Star
Hotel Club Martha is a 4 start hotel that is ideally located within 300m from the sandy beaches. The hotel has a variety of facilities for guests of all ages to enjoy including swimming pools, tennis courts, kids club and entertainment shows.
Hotel Palia Maria Eugenia
Majorca EastCalas De Mallorca - 4 Star
This all inclusive property is built on a cliff with stunning views towards the Mediterranean Sea. The Hotel offers a family atmosphere and is suitable for guests of all ages with plenty of entertainment and activities for guests to enjoy throughout the day.
Iberostar Club Cala Barca
Majorca EastPorto Petro - 4 Star
The Iberostar Club Cala Barca is a 4-star all-inclusive family hotel in Cala Barca. Close to the Mediterranean Sea it is surrounded by beautiful natural scenery like golden beaches such as S'Amarador.