Malta - ATOL HOLIDAYS
Malta


For such a small island, Malta packs a lot in. Youáve got beaches, chic harbour towns, and enough centuries-old sights to keep you busy for weeks. Itás a real up-and-comer on the clubbing scene, too, and has a calendar thatás crammed with carnivals, festivals and parties. There are many flat promenades and accessible public buildings in Malta. Making it a fantastic disabled holiday destination. More Resort Info....

If you are interested in wheelchair accessible holiday in this section and require further information then please do click on the get a quote button to receive a quote.
Radisson Blu Golden Sands Resort and Spa
MelliehaGolden Bay - 5 Star
With unforgettable views of the sea and the countryside and the most exclusive five-star resort in Malta, the Golden Sands Resort & Spa is brilliantly located on the edge of a cliff overlooking the unique Sandy Beach.
Seabank Hotel and SPA
MelliehaMellieha Town - 4 star
The Seabank Resort and Spa is located just across from Malta's most popular and largest sandy beach, Mellieha Bay and is surrounded by typical Maltese countryside. The resort is also fully accessible for wheelchair aided guests. All the rooms have two bathrooms, standard and adapted bathroom.
Paradise Bay Hotel
MelliehaMellieha Town - 4 star
The Paradise Bay Resort Hotel is very popular, spacious and comfortable. It is beautifully situated overlooking the picturesque sister islands of Gozo and Comino surrounded by the clear water of the Mediterranean.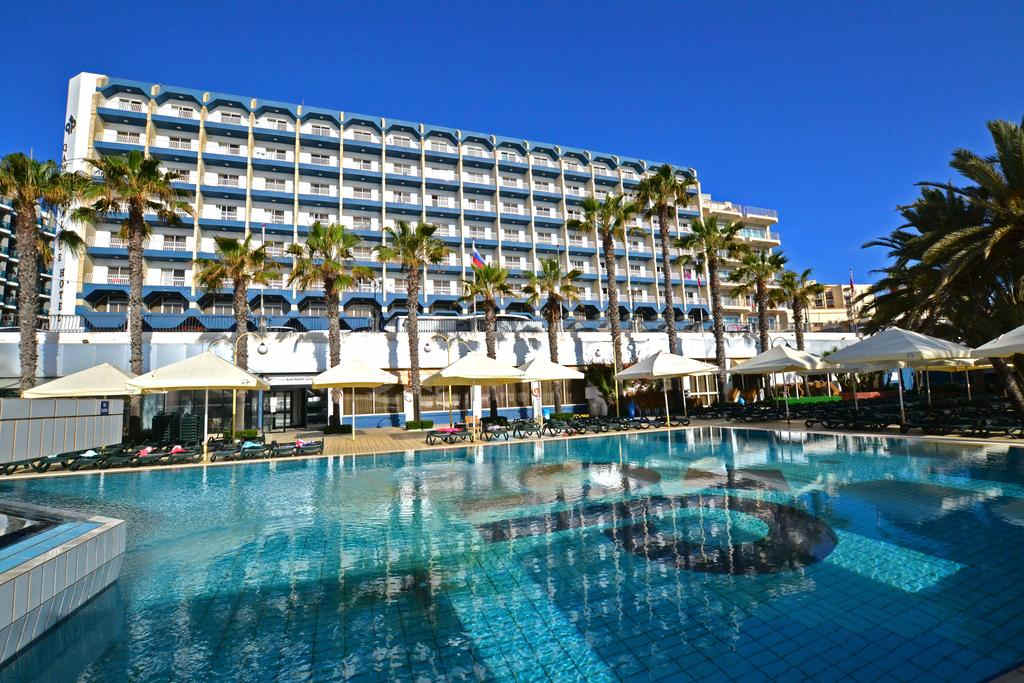 Qawra Palace Hotel
Qawra - 4 star
Located on a key seafront setting, The Qawra Palace Hotel enjoys a beautiful view of Salina Bay complimented by the scenic promenade. With a focus on service and semi-modern furnishings offering a touch of style and culture, this resort is an ideal choice for couples or families looking for a holiday to remember.
San Antonio Hotel & Spa
Qawra - 4 star
The hotel is in the centre of the wonderful seaside resort of St. Paul's Bay which was a small fishing village dating back almost 1000 years and is located in the north of Malta close to Qawra.
Dolmen Resort
Qawra - 4 star
The Dolmen Resort Hotel delivers uncompromising quality while engaging your every mood and aspiration of Malta. Contemporary room design and exemplary standards of service, facilities and cuisine.
Seashells Resort at Suncrest
Qawra - 4 star
Enjoy a relaxing break at The Suncrest Hotel. Whether it's just a weekend getaway or a longer holiday we are sure you can find activities to suit your requirements. Most of the rooms have a balcony from which either a land view or sea view can be enjoyed.
Malta Hilton
St Julians - 5 star
Situated at the heart of the Portomaso Waterfront in the fashionable St. Julian's district, the Hilton Malta hotel occupies an enviable position overlooking the Yacht Marina, and offers a distinctive golden-ochre contrast to the Mediterranean's azure waters.
Le Meridien
St Julians - 5 star
Discover one of Malta's top 5 star hotels located in the heart of downtown St Julian's and right at the water's edge. Winner of the Top 10 Luxury hotels in Malta in the Tripadvisor 2013 Travellers' Choice and the Mediterranean's Leading Resort in the World Travel Awards 2013 , the Westin Dragonara Resort ensures your idea holiday accommodation.
Westin Dragonara
St Julians - 5 star
Situated in the grounds of a 19th century Maltese Villa on the seafront of the picturesque Balluta Bay, one finds the 5-star hotel, Le Méridien St Julians - an illusive combination of innovative and contemporary design.
Golden Tulip Vivaldi Hotel
St Julians - 4 star
The Golden Tulip Vivaldi is a 4-star luxury hotel in Malta situated in the heart of Saint Julian's, within walking distance of a splendid beach and local attractions.
Hotel Xlendi Resort & Spa
St Julians - 3 star
This modern property on South west coast of Gozo boasts spectacular accommodation and one of the most impressive views of Xlendi Bay in the area. The resort is close to St. George's Basilica, Ta' Cenc and other attractions.
Grand Excelsior Hotel
Valletta - 5 star
As the premier destination among 5-star Valletta hotels, the Grand Hotel Excelsior is ideally located on the doorstep of a UNESCO World Heritage Site. The Capital City of Valletta, with all its major attractions, culture, art treasures, and historical architectural gems.
Waterfront Hotel
Sliema - 4 star
The Waterfront Hotel is a leading 4 star hotel in Malta. Situated in an excellent location along the Sliema promenade, the hotel is placed within walking distance from public transport and other services including bars and restaurants, several shopping outlets and the Sliema Ferries.
Park Hotel
Sliema - 4 star
The Park Hotel situated in the heart of Sliema just walking distance from the Shopping Mecca and only 2 km from the UNESCO world heritage city Valletta, offers a unique location. Warmth, Style & Service are what defines Park Hotel an environment to enjoy and indulge.
Hotel Fortina
Sliema - 4 star
Situated on the waterfront in a quiet part of Sliema, just 400m from all of the town's shops, restaurants and cafes. The sea is just a short walk away. Within the hotel complex there are 5 pools and access to the Fontina Fitness centre, with indoor Jacuzzi.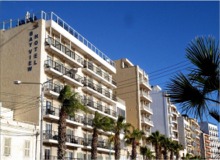 Bay View Hotel
Sliema - 3 star
The Hotel Bayview overlooks the picturesque fortifications, the historical buildings of Malta's capital city Valletta and the traditional Marsamxetto harbour.