MENORCA - ATOL HOLIDAYS
Calan Bosch, Menorca


Cala'n Bosch, on Menorcaás southwest coast, was purpose-built in the Eighties. Itás an easy-going place with whitewashed villas and a small, golden beach. The real focal point, though, is the marina ringed with shops, bars and restaurants á it's the go-to place for lazy lunches that transforms into a lively night-time hub. More Resort Info....

If you are interested in wheelchair accessible holiday in this section and require further information then please do click on the get a quote button to receive a quote.
Hotel Spa Sagitario Playa
Calan Bosch - 4 star
We are very close to your dreams. A step away from the crystal clear waters and white sands of Cala Blanca in Ciutadella de Menorca, in an environment consisting of green pines and integrated in a quiet residential area, with tourism services for the whole family.
Grupotel Aldea Cala'n Bosch
Calan Bosch - 4 star
It is a cozy apartment complex crown Cala'n Bosch. Enjoy spectacular views of the sea and the beautiful sunsets the western tip of Menorca. Grupotel Aldea Cala'n Bosch is ideal for a quiet family holiday.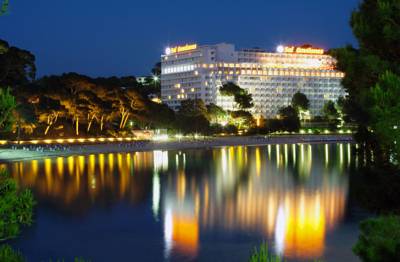 Sol Gavilanes
Calan Bosch - 4 star
The Sol Gavilanes is just 5 minutes walk from the centre of Cala Galdana, where there is a selection of shops, bars and cafes. The resort is surrounded by pine forests, and the pretty coves at La Serpentona and Sant Francesc are less than 5 km away.
Hotel Valentin Star
Calan Bosch - 4 star
With peaceful chill out areas, a lovely relaxing pool, plus modern decor throughout, itís easy to see why this hotel is so popular. This hotel is perfect for couples looking for laid back days on the beach, and nights exploring the buzzing marina.
Zafiro Menorca Apartments
Calan Bosch - 4 star
This family friendly property is perfect for those seeking a fun and relaxing break in Menorca. With spacious apartments, and excellent facilities and activities to suit the whole family, this hotel is one of the best family resorts on the island.
Melia Cala Galdana
Calan Bosch - 4 star
The Hotel MeliŠ Gavilanes, Cala Galdana is located on the south coast of Menorca next to the sandy beach of Cala Galdana Beach. The disabled accessible hotel features tranquil, modern rooms with spectacular views of the beautiful bay of Santa Galdana.
Grupotel Playa Club Hotel
Calan Bosch - 4 star
Set in a lush green landscape, this upscale apartment hotel is a 4-minute walk from Surf n' Sail Menorca, 2.6 km from Cap díArtrutx Lighthouse and 12 km from Minorca Cathedral. The contemporary apartments offer 2 flat-screen TVs, living rooms with sofas, and desks.