SPAIN - ATOL HOLIDAYS
Costa Blanca, Spain

- Costa Blanca is on the coastline of the Province of Alicante. With its mountainous interior, miles of golden sandy beaches and subtropical vegetation this is one of the most attractive and popular regions of Spain for visitors.

Many beaches in the Costa Blanca are equipped with wheelchair accessible boardwalks and toilets. Good examples are the Calpe beaches, which also offer specially adapted chairs for use in the water. More Resort Info....

If you are interested in wheelchair accessible holiday in this section and require further information then please do click on the get a quote button to receive a quote.
Villa Venecia Boutique Hotel
Costa BlancaBenidorm
Located between Levante and Poniente beaches and overlooking the Mediterranean, this luxury hotel in the historic centre of Benidorm is ideal for visiting the city's tourist attractions.
Kaktus Albir Hotel
Costa BlancaBenidorm
The Kaktus Albir is wonderfully situated on the Albir Beach, 10 minutes from Benidorm, 3 minutes from Altea and approximately 60 km from Alicante airport. It is a perfect choice for a restful, relaxing yet fun getaway as the hotel offers a friendly service and a wide array of facilities.
Benidorm Plaza
Costa BlancaBenidorm
Located just moments from the streets of Benidorm's charming old town, the Hotel Benidorm Plaza is a great base. The hotel has a modern look so it is easy to see why guests return year after year.
Hotel Servigroup Nereo
Costa BlancaBenidorm
Located in a prime location just 250 meters from the Playa de Levante, tourist town par excellence, and in the heart of the shopping area of Rincon de Loix. It offers outdoor pool, Wi-Fi, including outdoor areas to the extent of coverage, and a kids club with games and activities for the youngest of painting, drawing, theatre.
Flamingo Beach Resort
Costa BlancaBenidorm
The Flamingo Beach Resort is a popular choice for an Adults Only holiday in Benidorm. Every room is a suite here, so you will enjoy the feeling of space and luxury in your room. The hotel is set in a quieter area of Benidorm, yet you are still close enough to the action. With 3 pools to choose from, and a great all inclusive package, the Flamingo Beach Resort is the firm favourite in this classic resort.
Melia Benidorm
Costa BlancaBenidorm
With amazing views of the Benidorm skyline, tropical gardens and a spectacular pool, Meliá Benidorm offers unique experiences on the cosmopolitan Costa Blanca.
Gran Hotel Bali
Costa BlancaBenidorm
Innovation and luxury are present at the Gran Hotel Bali, it is the tallest hotel in Spain and Europe, standing 186 meters high. This imposing hotel of 2 buildings is situated in the La Cala area of Benidorm just after Poniente beach, close to the sea.
Hotel Agir
Costa BlancaBenidorm
Elegant and tastefully decorated installations along with innovative designs, welcomes you to Agir Hotel Benidorm. This property offers an excellent location, 100 metres away from the popular sandy Levante Beach and 150 metres from the city centre.
Hotel Brisa
Costa BlancaBenidorm
The hotel is placed with an eviable position in first line of Levante Beach and a quiet zone of Rincon de Loix in Benidorm. Enjoy the magnificent views of Benidorm and the hotel's modern facilities.
Dynastic Hotel
Costa BlancaBenidorm
Modern accommodation close to both the beach and nightlife. The hotel boasts two outdoor pools and an impressive 25 metre indoor pool perfect for splashing around in all year round. A wide range of leisure facilities and a great value all inclusive option this hotel is a great choice for couples, families and friends alike.
RH Royal Hotel
Costa BlancaBenidorm
The Royal Hotel is situated half way between Benidorm's old town and the Levante clubs and bars. Rooms are contemporary in design and feature private balconies, satellite television and wi-fi internet
RH Hotel Victoria
Costa BlancaBenidorm
An elegant and modern hotel where everything has been designed to make your stay as comfortable as possible. Its excellent situation in a quiet residential area very close to the beach and the town centre, as well as its very complete facilities and attentive service
Mediterraneo Benidorm Hotel
Costa BlancaBenidorm
The hotel is located just 100 metres away from the Postiguet beach and the entertainment centre of Alicante. The hotel guestrooms are equipped with modern facilities including individual air con, internet connection and fully equipped bathroom.
Hotel Helios
Costa BlancaBenidorm
With excellent access to the world-famous Levante Beach and within reach of the best of the resorts nightclubs, bars and restaurants, you cant go wrong with this smart three-star. As well as its location, it has a good selection of food and two swimming pools for those lazy days.
Sol Pelicanos Ocas Hotel
Costa BlancaBenidorm
The Sol Pelicanos-Ocas resort is located only 300 m from the beautiful Levante Beach. Formed by the Pelicanos and Ocas buildings, this spectacular resort is ideal for family vacations all year round and for discovering one of the most important tourist destinations in the Mediterranean thanks to its privileged climate, beaches and great nightlife.
Servigroup Hotel Orange
Costa BlancaBenidorm
The Orange Hotel is especially recommended for adults, located in the most British area of the city, with many restaurants, pubs, or other places of entertainment focused on the English tourist very close to the hotel.
Hotel Servigroup Venus
Costa BlancaBenidorm
Centrally located in Benidorm and just 400 metres from Levante Beach, the Hotel Serivgroup Venus offers every comfort. The pleasant atmosphere is enhanced by attractive gardens, elegant furnishings and an inviting swimming pool complete with sun terrace. Accommodation is in two buildings and guests can access both by a connecting foyer.
Hotel Montesol
Costa BlancaBenidorm
Montesol Hotel is in excellent location with easy access to Levante Beach and Poniente Beach. Extremely close to Benidorm's historic centre and its shopping area. Located in the centre of Benidorm 200m away. Whether guests are traveling as a couple, as a family or on business, this is the hotel for them.
Terralta Apartments
Costa BlancaBenidorm
Located in a quiet and residential area these easily accessible apartments are close to the beach and all the fun and action of Benidorm.
Hotel Alameda
Costa BlancaBenidorm
Hotel Alameda is a modern hotel in the old town of Benidorm with recently refurbished rooms, and a minimalist atmosphere. This location is surrounded by restaurants and shops as well as other points of interest like the Port, the narrow streets of Canfali, and the Nautical Club.
Hotel Kaktus Albir
Costa BlancaAlbir
The Kaktus Albir is wonderfully situated on the Albir Beach, 10 minutes from Benidorm, 3 minutes from Altea and approximately 60 km from Alicante airport. It is a perfect choice for a restful, relaxing yet fun getaway as the hotel offers a friendly service and a wide array of facilities.
Gran Hotel Sol y Mar
Costa BlancaCalpe
A new hotel created for leisure, rest and pleasure moments with first class services. A place where your breath will be taken away. Style, distinction, character, captivation and an exclusive location beside the beach overlooking the Mediterranean Sea and the impressive Penyon de Ifach.
Hotel Diamante Beach
Costa BlancaCalpe
The Diamante Beach Hotel is located on the Levante Beach just a few meters from the promenade. Assuring comfortable accommodation blended with quality service, this hotel ensures you to enjoy an unforgettable stay.
Hotel Roca Esmeralda
Costa BlancaCalpe
Located close to the sandy beach Hotel Roca Esmerelda, Calpe is a family friendly hotel containing plenty of facilities that allow guests to relax and unwind these include spa, Jacuzzi, saunas and much more.
Hotel Playas de Torreviejas
Costa BlancaTorrevieja
Torrevieja a fast expanding resort. There are marvellous coves in the northern part, as well as the saline pools which can be found beside the promenade right in the centre of the town. Fantastic beaches and terraces along the promenade have numerous playgrounds and areas of interest for the little ones. The area around Torrevieja is nationally and internationally known for its salt production.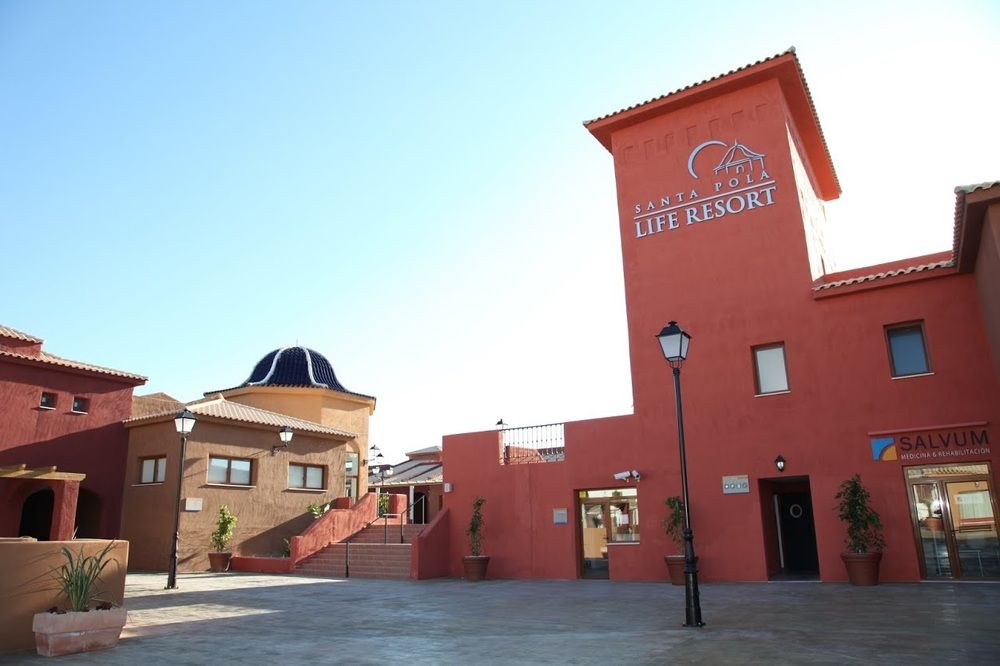 Santara Resort & Spa
Costa BlancaAlicante - 4 Star.
Santara Resort & Spa offers a range of modern and stylish bungalows. All have kitchens with microwave and fridge. They also have satellite TV, air conditioning and heating. Santara Resort & Spa is located just 0.6 miles from the beach and 4.3 miles from Alicante's El Altet Airport.
Asia Gardens Hotel & Thai Spa
Costa BlancaAlicante - 5 Star.
Many famous faces have chosen Asia Gardens Hotel &Thai Spa to enjoy a unique escape. This exclusive hotel with all the serenity, peace and quiet of South-East Asia is a member of Leading Hotels of the World, guaranteeing complete relaxation and perfect service.