Switzerland - ATOL HOLIDAYS
Geneva, Switzerland


Like the swans which frolic on its Alpine lake (Europe's largest), Geneva is a rare bird. Slick and cosmopolitan the people of Switzerland's second-largest city chatter in almost every language among streets paved by gold. The headquarters of the World Trade Organization and the second-largest branches of the United Nations are here, along with the overload of luxury hotels, boutiques, jewellers, restaurants and chocolatiers accompanying them - meaning a disabled holiday in Geneva is perfect for any wheelchair user. More Resort Info....

If you are interested in wheelchair accessible holiday in this section and require further information then please do click on the get a quote button to receive a quote.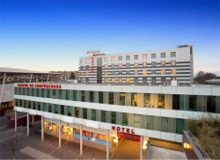 Ramada Encore Geneva
Geneva - 3 star
Ramada Encore Geneva offers a restaurant, bar, conference centre and friendly staff which are available during every moment of your stay to ensure guests feel comfortable and welcome he hotel is only 15 minutes away from the Airport and 10 minutes from the city centre.