Description
A 10 day (9 nights) tour around Rajasthan, aimed at individuals with reduced mobility. All major sites have accessible ramps making it easy to travel.
This Package Includes
Private transportation with driver and A/C
4* / 5* Accommodation
Meals Included as Listed in Itinerary
A local expert guide during the full journey
Entrance fees for monuments mentioned in the program
Domestic Flight from Udaipur to Delhi
Not Included
Drinks during meals
International flights
Visa
Tips
Itinerary
Day 1 - Arrival in Delhi
Welcome to India! Upon arrival at the airport, your guide and driver will warmly welcome you and transfer you to your hotel.
We have designed with care and creativity this itinerary which is 100% accessible to wheelchair users and answering the requirements of less mobile travelers in order to let you enjoy the discovery of this beautiful region in great comfort and full serenity. Your guide and local advisor will be at your disposal during your trip; do not hesitate to contact them should you need any assistance.
Accessible Accommodation
Day 2 - Agra
This morning, drive to Agra, home to India's most famous landmark: the incomparable Taj Mahal! Lunch on arrival in Agra followed by the visit of the Taj Mahal (closed on Friday). The Taj Mahal was constructed by Emperor Shah Jahan in memory of his wife Mumtaj Mahal who died during the birth of her child in 1631. The construction is said to have taken 22 years to complete, starting from 1631, with over 20,000 craftsmen working round the clock. Take all your time to enjoy this outstanding monument. Continue with the visit of the Red Fort of Agra. A great monument made of red stones.
Meals Included : Breakfast at Hotel, Lunch in Agra & Dinner at Hotel
Accessible Accommodation
Day 3 - Agra -> Jaipur
Departure this morning for the pink city: Jaipur!
En-route stop at Fatehpur Sikri, the deserted capital of Emperor Akbar. Built in the 16th century, this city was abandoned 12 years later due to a scarcity of water. The entire city of Red sand stone (sand stone palaces and temples) remains intact. The site is fully accessible thanks to soft access ramps. Continue to Jaipur. Night in Japiur.
Meals Included : Breakfast at Hotel, Lunch Enroute & Dinner at Hotel
Accessible Accommodation
Day 4 - Jaipur
Morning excursion to Amber Fort. Amber was once the ancient capital of Jaipur state. The Fort is a superb example of Rajput architecture, stunningly situated on a hillside and overlooking a lake, which reflects its terraces and ramparts.
This afternoon you will visit the City Palace which is still the home of the former royalty Bhawani Singh Ji of Jaipur housing an extensive collection of art, carpets and old weapons.
Continue to visit Jantar Mantar: the Observatory. At first glance, Jantar Mantar appears to be a curious collection of sculptures but in fact each construction has a specific purpose such as measuring the positions of stars, altitudes and azimuths, and calculating eclipses. The most striking instrument is the sundial with its 27 meter high gnomon.
Just before sunset, witness an unusual ceremony at the Govind Devji temple. The temple hosts a very popular sculpture of a divinity which is showed only at certain times of the day. When the curtain opens up to show the sculpture, a funny ritual is made by believers! Night in Jaipur. Let's not say more to keep the surprise!
Meals Included : Breakfast at Hotel, Lunch & Dinner at Hotel
Accessible Accommodation
Day 5 - Jaipur
Morning at leisure to enjoy some rest. This afternoon, an outstanding experience is waiting for you this afternoon for which a new friend will join you. Short introduction of your new friend: he is 8 feet tall, has a funny nose, he is kind, graceful and playful! Team up with an elephant! Spend time with him/her to learn about his needs and conditions of leaving and participate into plenty of fun activities! Night in Jaipur.
Meals Included : Breakfast at Hotel, Lunch at Hotel & Dinner at Hotel
Accessible Accommodation
Day 6 - Jaipur -> Pushkar -> Jodhpur
This morning, take the road to the holy city of Pushkar and its holy lake: certainly one of the most enjoyable little town of North India! The holy city of Pushkar is a sacred town for the Hindus. In the center of town is holy Pushkar lake surrounded by a number of temples including the famous Bramha temple; said to be the only temple in the world dedicated to this deity. A dip in the waters of Pushkar lake and worship at Bramha temple ensure salvation to the pilgrims. Lunch in Ajmer, just before arriving in Pushkar.
On arrival in Pushkar, take a walk through the Ghats leading to the lake and visit the Brahma temple. Pushkar is also a fantastic place for shopping! Take some time for yourself if you want to bring back some souvenirs! You will find plenty of clothes, items of home decoration, silver jewels and plenty more.
In the afternoon, continue the ride to Jodhpur, named as the "Blue City" as most of its houses are painted with indigo. Night in Jodhpur.
Meals Included : Breakfast at Hotel, Lunch in Ajmer & Dinner at Hotel
Accessible Accommodation
Day 7 - Jodhpur
Today, you will visit of Jodhpur' highlights. The city is distinguished by a massive fort that tops a sheer rocky ridge rising in the middle of the town: Mehrangarh Fort Founded in 1459 by Rao Jodha, the chief of a Rajput clan known as Rathores, Continue your visit to Jaswant Thaada, a white marble cenotaph of Maharaja Jaswant Singh II. The Jaswant Thaada is also a great place to admire the outside of the Mehrangarh fort.
Afternoon walk in the old Jodhpur. Around the great clock tower, a large market takes place every day. Tea, spices, tropical fruits, incense … you will find there many local ingredients to touch, smell and taste! Learn about how the locals are using all those different ingredients. Night in Jodhpur.
Meals Included : Breakfast at Hotel, Lunch at Hotel & Dinner in the city
Accessible Accommodation
Day 8 - Jodhpur -> Ranakpur -> Udaipur
After breakfast, departure to Ranakpur. The site of Ranakpur is famous for its amaizing monuments, among which the Adinath Temple is the most reknown: it is a stone carved jaïn temple with a complex architecture. Discover this temple from the outside. Night in Udaipur.
Meals Included : Breakfast at Hotel, Lunch at Ranakpur & Dinner at hotel
Accessible Accommodation
Day 9 - Udaipur
Start your day softly with a tour in the peaceful park of Sahélion Ki Bari and its moghols gardens. Indian families like to go there to enjoy the refreshing fountains. The City Palace is one of the largest palaces in the world and is a magical monument. Still inhabited by the royal family, you will visit the palace from the outside platforms.
Enjoy a fancy thali lunch on the terrace of the hotel-museum hosting the vintage car collection of the Maharaja! In the afternoon, take a tour in the old city. Magic is in the air of Udaipur! Dinner in the city, with a view on the Taj Lake Palace! Night in Udaipur.
Meals Included : Breakfast at Hotel, Lunch at Hotel-Museum & Dinner in the City
Accessible Accommodation
Day 10 - Udaipur -> Delhi Departure
Transfer to Udaipur airport to take your flight New Delhi bound. Upon arrival in Delhi, transfer from the domestic terminal to the international terminal for your return flight home. You leave the country of elephants and Maharajas with great memories!
Meals Included : Breakfast at Hotel
Adapted Transfers
Airport transfers are available.
Flights
Direct flight available from London and Birmingham. Flights available from most airports.

Call 03333 355615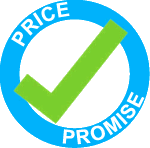 Price Promise Guarantee
If you find the same holiday for a cheaper price we will refund the difference.
Terms and Conditions apply
Click here to search for another disabled holidays in Tours In India, Accessible Tours