Boat for Everyone - a new holiday tour opportunity for disabled people.
This disabled holiday tour has been awared by the Cabildo de Tenerife for the best accessible architecture in 2021, and is completely adapted for people with reduced mobility, including qualified personnel for unbeatable service and treatment. The boat can be accessed by electric scooter, and holds up to 10 people with up to 4 wheelchairs per tour. Combined with one of our Accessible Hotels in Tenerife this makes for a great disabled holiday packed with excitement!
This accessible holiday in Tenerife is fantastic for disabled people - by including one of our disabled hotels in Tenerife you have a comprehensive accessible holiday with no worries or fuss. The tour boat is easily accessed by wheelchairs and electric scooters via the boarding ramp.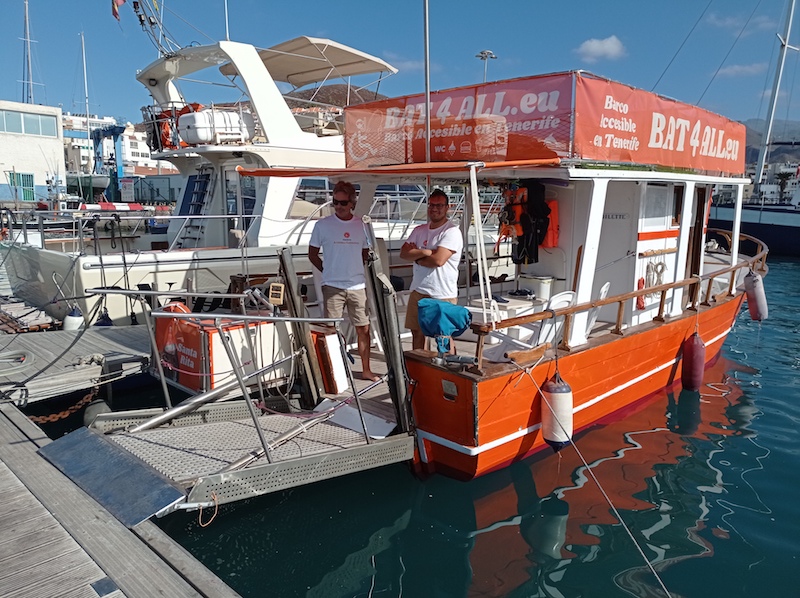 The boat includes a disabled accessible shower/bathroom, and a hydraulic platform to allow you to bathe in the ocean. There are lots of new experiences to be had on this accessible holiday in Tenerife, including swimming in the bay and seeing the marine fauna of Tenerife up close. The tour includes drinks and snacks so you can make yourself comfortable.
This accessible holiday tour in Tenerife can be booked shared with other people, or may also be booked privately so you can have the boat to yourself. There are many 3 hour time slots to choose from, from morning to evening - including a 'sunset' tour. However, there's no shortage of flexibility - you can book a 5 hour trip, or even a whole day trip, and it can be arranged to personalise this accessible holiday in Tenerife to suit your needs. A professional in the disability sector is available to provide guidance for a variety of other activities, such as sport fishing and diving.
Top Destinations in Tenerife
If you are interested in wheelchair accessible holiday in this section and require further information then please do click on the get a quote button to receive a quote.
More information about Accessible Tenerife
Tenerife welcomes five million tourists per year. The island is famous for its kindness in welcoming visitors and the great yearround spring-like climate, with an average temperature of 22° celsius, as well as the quality of the beaches and hotels. It is also a tourist destination offering safe comfortable holidays for those who have mobility or communication difficulties.
Many beaches, squares and leisure facilities in Tenerife are adapted to welcome these tourists who are then able to share in family activities and enjoy all types of open-air adventures in complete peace-of-mind. There are parks and pedestrian areas for pleasant strolls, the chance to dig into the culture and history of areas such as Santa Cruz, Los Cristianos, and Puerto de la Cruz.
Accessible Holidays in Tenerife
Useful Information for Disabled Holidays in Tenerife: