NEWS ARTICLE
677. 31 July 2017 Accessible Accommodation for Disabled - Inverness, Scotland
Accessible Accommodation for Disabled - Inverness, Scotland - Achaderry Farmhouse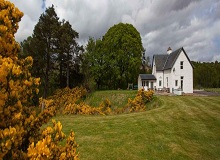 This farmhouse was built some 200 years ago and has been tastefully restored so that you can have a fine self catering holiday in the Outdoor Capital of the UK. You will be knocked out when you stay in this self catering farmhouse near Fort William, Nevis Range and Ben Nevis.
Achaderry Farmhouse welcomes everyone and is setup to accommodate wheelchair users. The approach to the Farmhouse is paved allowing easy access to the front door that has a low threshold.

Once indoors access is easy into the kitchen/diner and on into the bedroom or living room. The bedroom has a double bed with a mobile Oxford midi hoist. Lighting can be accessed remotely from the bed. A sliding door allows a chair to go into the en-suite bathroom. The 1800mm wide shower base has a seat and handrails to help one use the adapted shower. The toilet has a raised seat and the basin is lowered.
Paved approach to front door
Low threshold doors
Mobile Lift
Extra wide shower with easy access
Raised Toilet seat
Lowered washbasin
To see more accessible accommodation in the highlands, click here
To see all the disabled holidays we provide in the UK, click here
Have a Great Accessible Holiday!