NEWS ARTICLE
644. 18 May 2017 Disabled Accessible Holiday Cottages - Lancaster
Disabled Accessible Holiday Cottages - Lancaster - The Quarters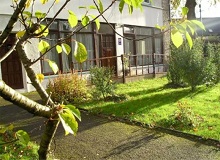 On the edge of the Forest of Bowland, a tranquil moorland gem, with the unspoiled River Lune, The Quarters is your perfect home away from home.

It is situated in Caton, a thriving North Lancashire village, just 2 miles from the M6 motorway, and only a short distance away from the historic City of Lancaster. Caton has a number of convenient shops and pubs, and its setting in the picturesque Lune valley makes it an ideal home-base for a wealth of other activities.
The Quarters pride themselves on the flexible and inclusive, two-bedroom, ground floor apartment that offers bespoke accommodation for all, no matter your requirements. From wide, level, access across the whole property for guests with wheelchairs; to high-contrast doorways for those who are partially sighted; The Quarters can be a home for everyone.
To see more disabled holidays in Lancashire click here