NEWS ARTICLE
545. 20 March 2017 Disabled Hotels with Wet Room in Warrington, Cheshire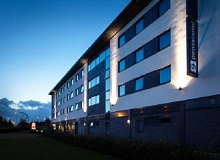 Need a beautiful and modern but accessible hotel in Cheshire? Then we've just added exactly what you need to our website, give it a look!
The location could hardly be better: The pentahotel Warrington is the perfect place to stay for trips to the Trafford Centre in Manchester (only 20 minutes away) or to Creamfields in Liverpool (only 25 minutes away). Warrington itself has plenty to offer, too. In particular a pentahotel that won't disappoint. For a relaxed, stylish and modern holiday this accessible accommodation is exactly what you're looking for.
The Penta Hotel Warrington is accessible, it provides:
Accessible Shower Room
Grab Rails in Shower Room
Folding Shower Chair
There is level/ramped acces into accommodation.
Have a Great Accessible Holiday!