NEWS ARTICLE
787. 15 December 2017 Four Seasons Disabled Holidays in Cyprus
Four Seasons Disabled Holidays in Cyprus - Four Seasons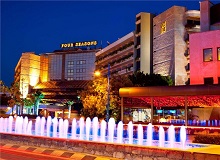 The prestigious independently owned and operated Four Seasons Hotel lies on a sandy beach east of Limassol approximately midway between the airports of Larnaca and Pafos and only a few minutes drive from the city centre. This five-star resort is the pinnacle of luxury & style, combining impeccable facilities with world class hospitality and service.
Click here to see all the disabled holidays in Cyprus
Click here to see all accessible holidays abroad
Have a Great Accessible Holiday!