London - CITY BREAKS
London


A disabled city break to London will bring you face to face with some of the worldás most famous landmarks and historical attractions. Scattered throughout the city are parks and gardens where you can relax and unwind. Discover a different cuisine on every corner of the city, and spend some time taking in the glamour of Londonás shopping districts. With an abundance of accessible accommodation and activities, London is a fantastic disabled city break.

If you are interested in wheelchair accessible holiday in this section and require further information then please do click on the get a quote button to receive a quote.
Threadneedles, Autograph Collection
London - 5 Star
Located within the offices of the former City Bank, our boutique hotel features sophisticated historic touches, including the bank's logo, which dates back to 1856 and can be viewed in the gorgeous stained glass dome that towers above the lobby.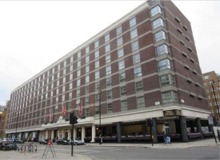 Hyatt Regency London – The Churchill
London - 5 Star
Hyatt Regency London – The Churchill is a 5 start hotel ideal for both business and leisure travellers, offering a peaceful yet central location. Situated in the heart of London's West End, this luxurious hotel is within walking distance to many of London's leading attractions from Buckingham Palace to the picturesque Hyde Park
Radisson Blu, Bloomsbury
London - 5 Star
Near the exclusive markets of Covent Garden and Oxford Street's famous shops, this enchanting Bloomsbury building brings glamour and tranquility together perfectly. A stone's throw from the British Museum, the hotel's charmingly understated vibe reminds you it really is unique.
London Marriott Hotel West India Quay
London - 5 Star
This 5 star Wheelchair accessible holidays accommodation is located just 11 minutes from London City Airport, our Canary Wharf London hotel is perfect for blending work and play. Guest will enjoy easy access to Queen Elizabeth Olympic Park, ExCel and The O2 arena.
Millennium Gloucester Kensington
London - 4 Star
Situated next to Gloucester Road Underground Station, this hotel provides the perfect location for guests wanting to visit some of the capital's greatest attractions. Nearby places of interest include Hyde Park, the Royal Albert Hall, Kensington Palace, the Natural History Museum and the Victoria and Albert Museum.
Novotel London Greenwich
London - 4 Star
Ideally located in the Royal Borough of Greenwich, the National Maritime Museum and the Royal Observatory are great tourist attractions which are close by. Hotel offers great Access with adapted transfer available from the airport.
Hotel Amba Marble Arch

London - 4 Star
Just a hop, skip and a jump away from Oxford Street, Amba Hotel Marble Arch is in the very heart of London's glittering centre. With Park Lane, Hyde Park and dozens of other landmarks just a few steps away, location really is everything. Oxford Circus and Madame Tussaud's are also within 15 mins.
Clayton Crowns Hotel
London - 4 Star
Clayton Crowns Hotel is one of the finest four star hotels in North West London. It is ideally located for speedy access to Kings Cross St Pancras, Luton Airport, Wembley Stadium and Arena, Brent Cross, and the M1 and M25 Motorways.
Apex City of London Hotel
London - 4 Star
This four-star hotel stands out among City of London hotels for its commitment to friendly service and comprehensive hospitality, that includes high-end dining at Addendum Restaurant, a convenient 24-hour fitness centre and much more.
Pullman London St Pancras
London - 4 Star
Located in the heart of the Royal Borough of Kensington and Chelsea, the Copthorne Tara Hotel London Kensington offers an extremely convenient location, with easy access to many shops and restaurants, as well as to the popular districts of Knightsbridge and Notting Hill.
Copthorne Tara Hotel London Kensington
London - 4 Star
Located in the heart of the Royal Borough of Kensington and Chelsea, the Copthorne Tara Hotel London Kensington offers an extremely convenient location, with easy access to many shops and restaurants, as well as to the popular districts of Knightsbridge and Notting Hill.
The Rubens at the Palace
London - 4 Star
Situated in a prime location is a wheelchair accessible accommodation, The Rubens at the Palace is opposite the Royal Mews of Buckingham Palace and a short distance away from Victoria Station and some of London's best shops and restaurants.
DoubleTree by Hilton Hotel London – West End
London - 4 Star
Originally built in 1911, this central London hotel is housed in a listed building with a stunning Edwardian facade. Ideally located just a five minute walk from Holborn and Russell Square Station, which runs the Central and Piccadilly Lines and offers direct access to Heathrow Airport.
Ambassador Hotel Bloomsbury
London - 4 Star
This wheelchair adapted hotel ensures a personal touch by professional and dedicated people who take pride in their efforts to make each and every guest or delegate especially welcome. Hotel offers spacious wheelchair adapted bathrooms with open shower areas.
Royal National Hotel
London - 4 Star
The hotel is central London's largest hotel, with an ideal location, off Russell Square, close to Covent Garden, Theatreland and the West End. Explore all the shops, sights and sounds of the capital and get about easily with excellent access to the underground at Russell Square Tube Station (250m)
Hotel Novotel London Tower Bridge
London - 4 Star
The 4-star Novotel London Tower Bridge hotel is located in the city of London, close to the Tower Bridge and St Paul's Cathedral. A 10-minute walk of The Gherkin.Its 203 guest rooms welcome you with free internet access and satellite TV.
Novotel London Waterloo,
London - 3 Star
Offering 187 brand new spacious bedrooms, the Novotel London Waterloo enjoys an enviable location right opposite Big Ben and Westminster. The hotel also features a restaurant, traditional English pub, a fitness centre, wireless internet access and on site parking.
Holiday Inn Express London Golders Green
London - 3 Star
Express By Holiday Inn Golders Green is a modern hotel, a 5-minute taxi ride from Finchley Central Tube Station, with good access to the major motorways. This Express By Holiday Inn Hotel is within easy reach of Wembley Stadium and the Emirates Stadium.
Premier Inn Gatwick Airport Manor Royal
London - 3 Star
This contemporary no-frills hotel is 4.5 miles from Gatwick airport, and 6.4 miles from the M23 motorway. The Gatwick Manor Royal Premier Inn is 5 minutes from the M23 and 15 minutes from the M25 motorway. Crawley Railway Station and town centre are 2 miles away.
Ibis London Earls Court
London - 3 Star
The ibis London Earls Court is situated in the centre of London in Earls Court and is 0.5km away from the Earls Court exhibition centre. The hotel offers a restaurant and a coffee shop/café. A bar/lounge is on site where guests can unwind with a drink.
Premier Inn Waterloo
London - 3 Star
At Premier Inn Waterloo you're perfectly placed for exploring the capital - from sunrise to sunset and beyond. And with skyscraper views from our 14th floor, the city is, quite literally, at your feet. Rooms at the hotel feature modern, functional decor. All include a flat-screen TV...etc.
Ibis Hotel Greenwich
London - 3 Star
Ibis London Greenwich is an economical accessible London hotel, located in the historic centre of Royal borough of Greenwich, close to Maritime Museum, Cutty Sark and Royal Observatory. You can easily access Canary Wharf, the O2 Arena or Excel Exhibition Centre via local transport links.
Ibis London City Hotel
London - 3 Star
Ibis London City is a contemporary economical accessible hotel in London, which is ideally located in the heart of the City of London, close to Aldgate East, Liverpool Street Station and the Tower of London. This hotel is suitable for disabled travellers.
Tavistock London
London - 2 Star
At the Tavistock Hotel offers history, culture and central location at a reasonable price. Many of our comfortable rooms overlook pretty Tavistock Square Gardens, a place of peaceful inspiration for Charles Dickens and Virginia Woolf.