Lanzarote - ATOL HOLIDAYS
Costa Teguise, Lanzarote


Back when it was built in the Seventies, Costa Teguise - on Lanzaroteás southeast coast á attracted affluent Spanish families, and today King Carlos of Spain has a place here.But thankfully visitors donát have to wait for royal appointment to enjoy the sandy beaches and the buzzy but family-focused nightlife.Costa Teguise was built specifically with tourism in mind, and its streets were laid and constructed before any of the buildings were built. This means that the emphasis here is on ease and convenience. More Resort Info....

If you are interested in wheelchair accessible holiday in this section and require further information then please do click on the get a quote button to receive a quote.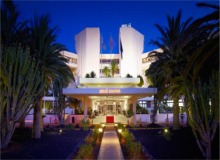 Melia Salinas
Costa Teguise - 5 Stars
The luxurious 5 star Melia Salinas hotel is located on the beautiful island of Lanzarote (Spain). The unspoiled surroundings of spectacular gardens, botanical areas and beaches with the finest white sands make this Canary Island one of the worlds unique natural paradises.
Barcelo Teguise Beach
Costa Teguise - 4 Stars
The Barcelo Teguise Beach - Adults only hotel has been completely refurbished to offer guests an avant-garde stay by the sea, boasting of beautiful light and tranquillity of Lanzarote.
HD Beach Resort
Costa Teguise - 4 Star
The hotel HD Beach Resort is located in the tourist area of Costa Teguise, in front of a small beach and 250 meters from the beach "Playa de Las Cucharas" and commercial area with shops, bars and restaurants. Ideally situated facing the sea offers the opportunity to enjoy all kinds of nautical activities, sports, entertainment and relaxation in a canary.
Blue Sea Costa Teguise Gardens
Costa Teguise - 4 Star
Costa Teguise is one of the most attractive tourist destinations on Lanzarote, thanks to its first class accommodations, the quality of its services, the beaches and the green spaces.
Sands Beach Villas
Costa Teguise - 4 Star
Stylish one and two bedroom villas, with the blue Atlantic Ocean literally feet from your door, you'll enjoy four-star self-catering and a gorgeous climate all year round.
Grand Teguise Playa Hotel
Costa Teguise - 4 Star
Situated in a prime beachfront setting of Costa Teguise, the Grand Playa hotel offers everything for a perfect holiday.
Beatriz Costa Hotel and Spa
Costa Teguise - 4 Star
The Hotel Beatriz Costa & Spa, is located 15 Km. from the airport in the peaceful area of Costa Teguise, 7 Km. from Arrecife and 2 Km. from the Golf Club with easy access from anywhere on the island.
Galeon Playa Apartments
Costa Teguise - 3 Star
These spacious and well equipped apartments are in one of the nicest spots along the Costa Teguise, great for holidaymakers of all ages looking for the perfect place to stay..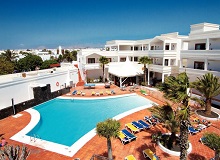 Oceano Apartments
Costa Teguise - 2 Stars
Ideally situated in the centre of Costa Teguise, Oceano Apartments offer well equipped studio apartments, with all the facilites required for a peaceful and relaxing self-catering holiday in a lovely location.

Vitalclass Lanzarote Resort
Costa Teguise - 4 Stars
Vitalclass Lanzarote is the perfect location to explore this wonderful island from, situated a stones-throw away from the stunning crystal-clear seas of the Costa Teguise shoreline and Las Cucharas beach, the 4-star Vitalclass Lanzarote Sports and Wellness resort is the ideal place to get away from it all.