Lanzarote - ATOL HOLIDAYS
Puerto Del Carmen, Lanzarote


Puerto del Carmen is on the southeast side of Lanzarote. It first got going in the Sixties and since then it's upped the tempo from its fishing village roots to become a very lively holiday hub. The waterside promenade doubles up as the main strip – it's packed with bars, clubs and restaurants, and it also looks out over a trio of beaches. More Resort Info....

If you are interested in wheelchair accessible holiday in this section and require further information then please do click on the get a quote button to receive a quote.
Casas Heddy
Puerto del Carmen - 3 Star
Casas Heddy Holiday & Health Center is a magnificent resort located on the outskirts of Puerto del Carmen. The hotel is 25 meters and consists of a main building with a large terrace and 76 rooms spread over the area in small bungalows. Some are especially wheelchair accessible and most people are at ground level
THB Flora
Puerto del Carmen - 3 Star
THB Flora in Puerto del Carmen was renovated in 2011 is located 600 m from the sandy and pebble stone beach. The closest city to the hotel is Arrecife (12 km). A wide variety of facilities, activities and entertainment are available for guests of all ages to enjoy including swimming pools, playgrounds for children, discos and much more.
Sentido Lanzarote Aequora Suites Hotel
Puerto del Carmen - 4 Star
Located in Puerto del Carmen and just 200m from Los Pocillos Beach, the Sentido Lanzarote Aequora Suites Hotel is a newly built resort that stands out for its modern interior design and for the quality and variety of its services.
Los Jameos Playa
Puerto del Carmen - 4 Star
Occupying a prime location by the sea and just a few steps from the inviting Playa Pacillos beach, the complex is set amidst 55,000 m² of palm tree lined gardens, offering an idyllic location for a relaxing getaway in Puerto del Carmen.
Hibiscus Las Costas Hotel
Puerto del Carmen - 4 Star
Recently refurbished with a sweet water swimming pool (heated in winter) and beautiful views of the sea, this hotel is ideally located near Playa de los Pocillos beach less than 2 km from the lively resort of Puerto del Carmen.
Riu Paraiso
Puerto del Carmen - 4 Star
Located right next to the Playa De Los Pocillos beach and only 8 km from the airport.
Riu Paraiso offers a perfect family getaway: The hotel has four swimming pools, three bars and four all inclusive themed restaurants.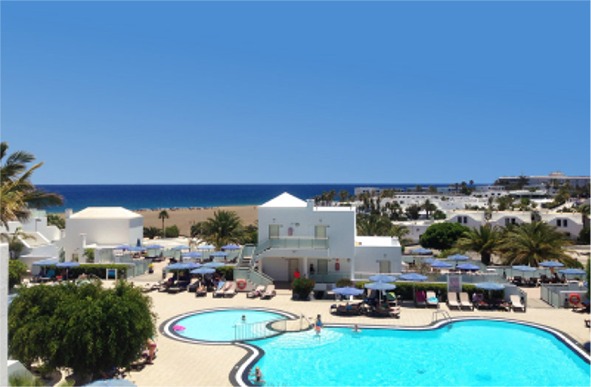 Lanzarote Village Hotel
Puerto del Carmen - 4 Star
Completely refurbished and renovated in 2009, this spacious, modern complex offers good quality, comfortable accommodation with a warm and friendly atmosphere in an excellent location.
Sol Lanzarote
Puerto del Carmen - 4 Star
This aparthotel is located in Matagorda opposite the beach front, making easy access out onto the 8km long flat paseo. The beaches in this area are accessible with wooden cladded walkways. Good accommodation with plenty of entertaiment and activities.
Nautilus Lanzarote
Puerto del Carmen - 4 Star
This 4-star aparthotel is right next to the longest promenade in Europe, just 5 minutes from the beach, and is near a shopping centre featuring a range of bars, restaurants, and souvenir shops. Certified as a Biosphere Aparthotel and awarded by TripAdvisor Ecoleaders Programme with a platinum medal for sustainablity.
Floresta Hotel
Puerto del Carmen - 3 Star
Located only a few metres from the Playa de los Pocillos and a few kilometres from the airport. Perfect for the family it boasts well-maintained facilities such as a salt water swimming pool (heated) childrens entertainment and well cared for gardens.
Labranda Playa Club Apartments
Puerto del Carmen - 2 Star
This traditional-style apartment complex is situated close to the main beach road, and offers comfortable rooms and friendly service. It's in an ideal location close to all resort amenities.