Greece - ATOL HOLIDAYS
Greece


Pulling in more than 13 million tourists every year, Greece is one of the world's most popular holiday spots. And it's not hard to see why. Spotless sands, centuries of history, and traditional sugar-cube towns are just the start of what the country has to offer. Over the last years, many hotels in Greece have been redesigning their spaces so that they are accessible by wheelchair. Meaning now is the best time for disabled wheelchair users to visit this incredible destination. More Resort Info....

If you are interested in wheelchair accessible holiday in this section and require further information then please do click on the get a quote button to receive a quote.
Mare Boutique Hotel
CorfuCorfu Town - 4 Star
Situated off the main road in a quiet area of Kerkira The Mare Boutique Hotel is an adults only 4* hotel with stylish décor throughout. Recently renovated in 2009, this warm and luxurious hotel offers its guests a peaceful and relaxing stay with a cosy atmosphere.
Elea Beach Hotel
CorfuDassia - 3 Star
The hotel is situated on the beach and close to the resort of Dassia, in a large olive grove which is surrounded by beautiful landscaped gardens. The Elea has a prime location on a Blue Flag award-winning beach between the Club Med and Chandris Hotels.
Ariti Grand Hotel
CorfuArillas - 4 Star
Located within the historical cliff of Kanoni, 4km from the center of Corfu town. Situated in a stunning and privileged position with beautiful beaches and spectacular views of the island.
Mega Hotel Ipsos
CorfuIpsos - 2 Star
Ipsos runs parallel to the main coastal road with your typical tourist shops on one side and the beach on the other. It is popular with younger visitors and it has a lively feel to it.
MarBella Agios Ioannis Hotel
CorfuIoannis Peristeron - 5 Star
Recently renovated this hotel lets you relax in 5 star luxury surroundings and soak up some of the incredible sun that Corfu is known for. Situated in an absolutely incredible location right on the sea front this is perfect for those sun-seakers wishing to spend their days by the Ionian Sea.
Bella Mare Hotel
CorfuKassiopi - 4 Star
In Corfu Hotel Bella Mare hotel everyone will find something for himself. Also it is the best place for relaxing holidays. All apartments are soundproofed and offer balconies or patios and hair dryers. In addition to kitchenettes with refrigerators, guests will find TVs with cable channels and sitting areas.
Labranda Sandy Beach Resort
CorfuAgios Georgios - 4 Stars
The Aquis Sandy Beach Resort is located in Agios Georgios, in South West Corfu. Smack bang on the beach, this is a great hotel to fly n flop at!
Grand Mare Hotel & Wellness
CorfuBenitses - 4 Star
The Grand Mare hotel is 12km from the quaint town of Corfu and only 9km from the airport. There is a regular bus service. The pretty fishing village of Benitses is a short stroll away. Grande Mare Hotel has its own beach only few meters down the road.
Rebecca's Village Hotel
CorfuSidari - 4 Star
Set in an area of 130.000 sq.m., 35km north of the town of Corfu and just 1km from the picturesque village of Sidari, the Rebecca's Village Hotel offers breathtaking view of the sea and the mountainside. There is also an abundance of restaurants, cafe's, bars and nightlife nearby.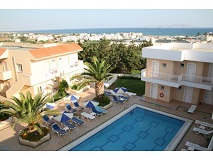 Lavris Hotels Bungalows
CreteHeraklion - 4 Star
Family-run with modern amenities & excellent services, Lavris Hotels are located in an ideal place to start exploring the island of unparalleled, largely unknown contrasts.
Magda Hotel
CreteHeraklion - 4 Star
Magda Hotel is a four-star hotel in Crete, that was built in 1993 and renovated recently. With soft colours and flowers, this hotel's style and atmosphere will make you feel comfortable, just 80 metres from a beautiful sandy beach and 200 metres from the resort centre.
The Artemis Palace
CreteRethymno - 4 Star
This charming and traditional hotel offers something for everyone; relax around the pool, take a short walk down to the beach or head to the old town of Rethymno, which is just a few minutes away. The friendly and attentive staff will ensure you have a memorable stay at The Artemis Palace.
Iberostar Creta Panorama & Mare, Panorama
CreteRethymno - 4 Star
Its privileged location on the beach makes the Iberostar Creta Panorama a great hotel. Guests can rest and have fun at the same time while enjoying unforgettable sea views and there is also exclusive access to two private coves for an indulgent and relaxing dip. Situated in well kept gardens with stunning sea views, this hotel is ideal for those looking for a relaxing break with plenty of facilities on offer.
Sentido Pearl Beach
CreteRethymno - 4 Star
The Sentido Pearl Beach Hotel is situated right on the Rethymnon beach. It has 2 swimming pools with free sun beds, and a fitness centre with indoor pool and hot tub. The private beach is directly in front of the hotel and is awarded the European blue flag for its crystal clear waters and organization.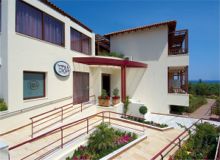 Eria Resort
CreteChania - 2 Star
Eria resort is the first hotel in Greece, that has been designed to offer the most pleasant and comfortable holidays to with accessibility needs, their families and their escorts. The Hotel first opened in June 2004.
Aegean Village
KosKardamena - 4 Star
Built on a slope, with magnificent views of the endless deep blue Aegean sea. The main buildings and the accessible rooms are located at the bottom of the slope whilst the 330 rooms are built on the hillside. Aegean Village caters for a wide variety of needs for all age groups.
Labranda Marine Aquapark
KosTigaki - 4 Star
The Labranda Marine Aquapark Resort is the perfect holiday spot for a Greek island family vacation. The hotel offers a variety of fantastic family-friendly facilities including a fun Water Park, exclusive to guests of this property.
The Stanley Hotel
MainlandAthens - 4 Star
Located in the center of Athens, Greece, The Stanley Hotel has served as a symbol of Athenian tourism for decades, with the privilege of serving more than 5 million travelers since its beginning. Throughout the years The Stanley has changed and adapted according to the needs of the modern traveler and went through two renovations in its lifetime.
Sirens Resort
MainlandCorinth
Sirens Resort is a complex of 5 fully accessible and equipped apartments, built to the highest standards to provide easy access to wheelchair users and people with physical impairments. The resort has been purpose-designed to offer a perfect combination of accessibility and comfort from your apartment to the sea.
Ikos Olivia
MainlandHalkidiki - 5 Star
Ikos Olivia features a full-service spa, 3 outdoor swimming pools, outdoor tennis courts, and an indoor pool. Dining is available at one of the resort's 5 restaurants. Guests can unwind with a drink at one of the resort's bars, which include 3 poolside bars and 5 bars/lounges. A complimentary breakfast is offered.
John & George
MainlandTolon - 4 Star
The "John & George" hotel is situated in the old part of Tolo, above the bay. The hotel's location provides an exceptional view across the bay of Tolo, dominated by the two islands of Romvi and Koronisi, and complimented by a working harbor providing anchorage for cruise and fishing boats.
Hotel Mediterranean
RhodesRhodes Town - 4 Star
Lie back and work on your tan with relaxing beach amenities like umbrellas and sun loungers. After a day at the beach, enjoy amenities at Hotel Mediterranean like an outdoor pool and a seasonal outdoor pool.All 241 rooms offer free WiFi and free wired Internet, plus washers/dryers and LED TVs with satellite channels.
Sun Beach Resort Complex
RhodesIalysos - 4 Star
Simply walk outside to feel the sun on your face at the sand beach. Spend the day at the beach and work on your tan with sun loungers (chaise longues) or relax in the shade with umbrellas. After a day at the beach, enjoy amenities at Sun Beach Resort Complex like a children's club, an outdoor pool, and a seasonal outdoor pool.
Matina Pefkos Hotel
RhodesPefki - 3 Star
Situated just 50 metres from Pefkos main beach, the Matina hotel is the perfect location for a relaxing yet unforgettable holiday. The peaceful location and the friendly, fun atmosphere appeal to all types of guests, from families to couples and everything in between.
Olympic Palace
RhodesIxia - 5 Star
Tastefully designed for comfort, 65% of our guest rooms are sea view with amazingly large verandas, ideal spots to take advantage of the amazing first rays of the sunlight or indulge in the enticing sunsets dipping in the Aegean Sea. Relax in our attractive and spacious gardens, or simply 'chill out' by the swimming pool.
Sheraton Rhodes Resort Hotel
RhodesIxia - 5 Star
Sheraton Rhodes Resort Hotel is the perfect place to enjoy a wide variety of activities. The most famous sights and attractions in Rhodes are within a few minutes' drive. Located by beautiful landscaped gardens it is only a few metres from a pristine private beach.
Amathus Beach Hotel
RhodesIxia - 5 Star
Set on the beautiful beach of Ixia, the charming Amathus Beach hotel is a peaceful sanctuary offering spectacular views of the seafront. This waterfront 5 star beach hotel in Rhodes Island offers a wide spectrum of entertainment and facilities.
Elysium Resort & Spa
RhodesFaliraki - 5 Star
This 5 star beach hotel in Rhodes is located in a picturesque natural setting within close distance from the city centre. Just a few meters away from the hotel is a spectacular landscape filled with pine trees leading all the way down to the famous monument of Kalithea Springs.
Venezia Resort Hotel
RhodesFaliraki - 3 Star
Located on the peaceful outskirts of Faliraki and Kalithies, Venezia Resort Hotel is surrounded by pleasant natural gardens and offer guests beautiful views of the Aegean Sea. Faliraki is the biggest resort of Rhodes Island which contains a wide variety of bars, restaurants and nightclubs in the centre for guests to enjoy.
Terra Apartment
RhodesLakhania - 3 Star
The bed and breakfast is located in Lakhania, a small mountain village in the south of Rhodes, with breath-taking views of the sea and mountains. The traditional village offers a variety of taverns and cafes, with picturesque winding streets, and lots of whites and blues.
Hotel Oscar
ZanteLaganas - 3 Star
The Oscar Hotel and Apartments complex is located in the outskirts of Laganas, the most popular resort of Zakynthos, well known for it's 7 Km long golden sandy beach.