MADEIRA - ATOL HOLIDAYS
Funchal, Madeira


Since its founding back in 1424, the capital city of Funchal has settled in nicely on Madeira's south coast. It's a real jigsaw of a place with its famously colourful gardens and a cobbled old town that comes with a 15th-century cathedral and traditional restaurants. Pieced between these are modern shopping malls, stylish clubs and a smart marina ringed with upscale places to eat. More Resort Info....

If you are interested in wheelchair accessible holiday in this section and require further information then please do click on the get a quote button to receive a quote.
Enotel Lido Resort & Spa
Funchal - 5 star
The Enotel Lido Resort & Spa blends five-star luxury with an ideal location in the heart of Funchal, Madeira. Close to great shopping and fine restaurants, yet only steps from the sunny beach, we boast one of the most enviable spots on the map.
Vidamar Resort
Funchal - 5 star
Vidamar Resort is a five star resort located in the heart of Funchal, Madeira. Boasting an exclusive ocean side location with direct access to the sea and a beautiful setting that is surrounded by tropical palm trees guests can enjoy stunning views of Funchal Bay and the surrounding area.
Melia Madeira Mare Hotel
Funchal - 5 star
A lavish retreat, the Melia Madeira Mare combines contemporary design with VIP-style luxury. Stylish, luxurious and cutting-edge. this brand new hotel certainly makes a good first impression. There is plenty to keep you busy here, with a small pebble beach 50m away, and it is backed by a waterfront promenade.
DILECTUS
Funchal - 4 star
DILECTUS' main purpose is to welcome senior clients and the public in general, including foreigners, with or without special needs, ensuring prompt and efficient medical and nursing assistance 24/7, tailored to the individual's requirements, on a permanent or temporary basis.
Golden Residence Hotel
Funchal - 4 star
Featuring panoramic views of Praia Formosa, the largest pebble beach in Madeira, the Golden Residence Hotel offers an outdoor pool, a wellness centre, and modern rooms with private balconies. The hotel is set between the beach and the promenade, a long and pleasant seaside walk to the Lido sprinkled with restaurants and a public display of the fantastic flowers Madeira is well known for.
Hotel Four Views Baia
Funchal - 4 star
The Four Views Baia Hotel occupies one of the best locations in Madeira's attractive capital, Funchal. From its commanding position this Funchal hotel offers a fantastic panoramic view of the Cathedral, the old part of town, the marina and the ocean. the Four Views BaŪa Hotel lies in the heart of Funchal, a mere 5-minute walk from the city centre.
Eira do Serrado
Funchal - 4 star
The Eira do Serrado is located in the heart of the subtropical island of Madeira. , Funchal and is perched high in mountains at the head of the pass to Nunís Valley. The mountains that surround it and the magnificent drops down the valley will simply take your breath away.
Madeira Panoramico Hotel
Funchal - 4 star
Excellently located in a privileged area, on the western slope of the amphitheatre of Funchal, enjoying a vast panorama of mountains, city, and sea. The endless horizon, sunshine, and surrounding nature, gives an atmosphere for calm tranquillity.
Porto Mare Hotel
Funchal - 4 star
Gazing over the Atlantic between exotic palms, this elegant retreat packs a lot into a special setting. This hotel has cherry-picked one of Funchalís finest spots. It hugs the seafront. Whatís more, itís a fairly easy walk along the promenade - just 30 minutes into the centre.
Porto Santa Maria Hotel
Funchal - 4 star
This chic hotel enjoys one of Funchalís most coveted locations - just steps away from the old town waterfront. With its fresh looks and pillar-fronted terrace, itís got a Riviera feel thatís totally at one with its surroundings.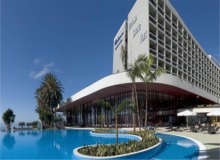 Hotel Pestana Casino Park
Funchal - 4 star
Hotel Pestana Casino Park is one of the most iconic hotel in Fuchal Madiera designed by the world renowed architecture Oscar Niemeyer. Located next to the tranquil bay cruise port of Funchal, the hotel is an ideal choice for guests looking to relax and unwind.