Lanzarote - ATOL HOLIDAYS
Lanzarote


A Unesco biosphere reserve, Lanzarote is an intriguing island with an extraordinary geology of 300 volcanoes, at the same time ticking all the right good-time boxes. There are great beaches, interesting sights and plenty of restaurants and hotels. The landscape has a stark and otherworldly appearance, with the rustic, palm-filled valleys and surreal, crinkly black lava fields.More Resort Info....

If you are interested in wheelchair accessible holiday in this section and require further information then please do click on the get a quote button to receive a quote.
Arrecife Gran Hotel
Arrecife - 5 Star
This five star hotel stands majestically next to the sea over the beach "El Reducto". It is rounded by a wide park and opens the city to the sea. Its style is modern where function, comfort and refinement give us luxury and relaxation.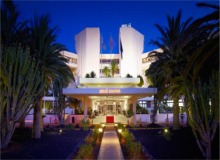 Melia Salinas
Costa Teguise - 5 Stars
The luxurious 5 star Melia Salinas hotel is located on the beautiful island of Lanzarote (Spain). The unspoiled surroundings of spectacular gardens, botanical areas and beaches with the finest white sands make this Canary Island one of the worlds unique natural paradises.
Barcelo Teguise Beach
Costa Teguise - 4 Stars
The Barcelo Teguise Beach - Adults only hotel has been completely refurbished to offer guests an avant-garde stay by the sea, boasting of beautiful light and tranquillity of Lanzarote.
HD Beach Resort
Costa Teguise - 4 Star
The hotel HD Beach Resort is located in the tourist area of Costa Teguise, in front of a small beach and 250 meters from the beach "Playa de Las Cucharas" and commercial area with shops, bars and restaurants. Ideally situated facing the sea offers the opportunity to enjoy all kinds of nautical activities, sports, entertainment and relaxation in a canary.
Blue Sea Costa Teguise Gardens
Costa Teguise - 4 Star
Costa Teguise is one of the most attractive tourist destinations on Lanzarote, thanks to its first class accommodations, the quality of its services, the beaches and the green spaces.
Sands Beach Villas
Costa Teguise - 4 Star
Stylish one and two bedroom villas, with the blue Atlantic Ocean literally feet from your door, you'll enjoy four-star self-catering and a gorgeous climate all year round.
Grand Teguise Playa Hotel
Costa Teguise - 4 Star
Situated in a prime beachfront setting of Costa Teguise, the Grand Playa hotel offers everything for a perfect holiday.
Beatriz Costa Hotel and Spa
Costa Teguise - 4 Star
The Hotel Beatriz Costa & Spa, is located 15 Km. from the airport in the peaceful area of Costa Teguise, 7 Km. from Arrecife and 2 Km. from the Golf Club with easy access from anywhere on the island.
Galeon Playa Apartments
Costa Teguise - 3 Star
These spacious and well equipped apartments are in one of the nicest spots along the Costa Teguise, great for holidaymakers of all ages looking for the perfect place to stay..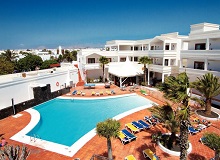 Oceano Apartments
Costa Teguise - 2 Stars
Ideally situated in the centre of Costa Teguise, Oceano Apartments offer well equipped studio apartments, with all the facilites required for a peaceful and relaxing self-catering holiday in a lovely location.

Vitalclass Lanzarote Resort
Costa Teguise - 4 Stars
Vitalclass Lanzarote is the perfect location to explore this wonderful island from, situated a stones-throw away from the stunning crystal-clear seas of the Costa Teguise shoreline and Las Cucharas beach, the 4-star Vitalclass Lanzarote Sports and Wellness resort is the ideal place to get away from it all.

Gran Castillo Tagoro Family and Fun Hotel
Playa Blanca - 5 Star
Reminiscent of an ancient castle majestically presiding over the countryside, the Dream Hotel Gran Castillo & SPA Vitanova in Playa Blanca, the most prestigious area in the South of Lanzarote, offers unbeatable views onto the Atlantic Ocean and neighbouring islands.
H10 Rubicon Palace
Playa Blanca - 5 Star
Standing on the seafront in Playa Blanca in southern Lanzarote, the H10 Rubicón Palace is an iconic five-star resort that was recently renovated. It stands out for its impressive interior design that includes the most characteristic elements of the island and its colours: white, green and black.
Princesa Yaiza Suite Hotel Resort
Playa Blanca - 5 Star
This ocean-side luxury resort in a contemporary Moorish-style complex is 2 km from Rubicon Marina and 7 km from Pechiguera Lighthouse. The Hotel Pincesa Yaiza is located at the very side of the fishing village of Playa Blanca on Playa Dorada.
THB Tropical Island
Playa Blanca - 4 Star
Hotel THB Tropical Island is a spectacular resort located in Playa Blanca, Lanzarote. Designed especially for families and groups of friends, it has everything you need so you can enjoy an unforgettable holiday within resort itself and just steps away from your apartment.
Elba Lanzarote Royal Village Resort
Playa Blanca - 4 Star
The Elba Lanzarote Royal Village Resort, located on the magical island of Lanzarote, a Bioshphere Reserve, is a complete holiday complex inspired by the culture of the Canary Islands, reflected in its architecture of a typical Lanzarote town.
H10 Lanazarote Princess Hotel
Playa Blanca - 4 Star
The H10 Lanzarote Princess is located on the southern coast of Lanzarote, in the fishing village of Playa Blanca, close to the sea and opposite Fuerteventura Island.
Iberostar Selection Lanzarote Park
Playa Blanca - 5 Star
Iberostar Selection Lanzarote Park, whose construction was overseen by the famous architect César Manrique, takes the shape of three 'zocos' that look out on a spectacular view of the Ocean, right on the seafront of the Playa Blanca.
Hesperia Lanzarote Hotel
Puerto Calero - 5 Star
The serenity of your surroundings is enhanced by a list of services and amenities designed to make each moment feel magical. Four swimming pools, four restaurants, four bars, extensive gardens and a unique volcanic sand beach.
Hotel Costa Calero
Puerto Calero - 4 Star
The 4-star Hotel Costa Calero is located in Puerto Calero, one of Lanzarote's premier resorts. The peaceful location of the hotel, along with its extensive grounds and wonderful views across the Atlantic make it ideal for a relaxing holiday.
ClubHotel Riu Paraiso
Puerto del Carmen - 4 Star
The Hotel Riu Paraiso Lanzarote is situated on the vast Playa de los Pocillos beach in Lanzarote, Spain. If you're looking for relaxing holidays and heavenly beaches this should definitely be your next destination.
Casas Heddy
Puerto del Carmen - 3 Star
Casas Heddy Holiday & Health Center is a magnificent resort located on the outskirts of Puerto del Carmen. The hotel is 25 meters and consists of a main building with a large terrace and 76 rooms spread over the area in small bungalows. Some are especially wheelchair accessible and most people are at ground level
THB Flora
Puerto del Carmen - 3 Star
THB Flora in Puerto del Carmen was renovated in 2011 is located 600 m from the sandy and pebble stone beach. The closest city to the hotel is Arrecife (12 km). A wide variety of facilities, activities and entertainment are available for guests of all ages to enjoy including swimming pools, playgrounds for children, discos and much more.
Sentido Lanzarote Aequora Suites Hotel
Puerto del Carmen - 4 Star
Located in Puerto del Carmen and just 200m from Los Pocillos Beach, the Sentido Lanzarote Aequora Suites Hotel is a newly built resort that stands out for its modern interior design and for the quality and variety of its services.
Los Jameos Playa
Puerto del Carmen - 4 Star
Occupying a prime location by the sea and just a few steps from the inviting Playa Pacillos beach, the complex is set amidst 55,000 m² of palm tree lined gardens, offering an idyllic location for a relaxing getaway in Puerto del Carmen.
Hibiscus Las Costas Hotel
Puerto del Carmen - 4 Star
Recently refurbished with a sweet water swimming pool (heated in winter) and beautiful views of the sea, this hotel is ideally located near Playa de los Pocillos beach less than 2 km from the lively resort of Puerto del Carmen.
Riu Paraiso
Puerto del Carmen - 4 Star
Located right next to the Playa De Los Pocillos beach and only 8 km from the airport.
Riu Paraiso offers a perfect family getaway: The hotel has four swimming pools, three bars and four all inclusive themed restaurants.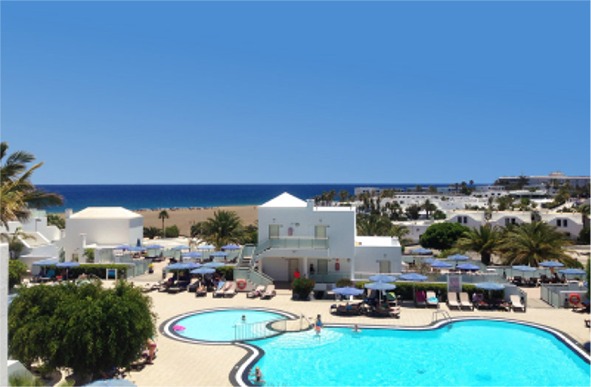 Lanzarote Village Hotel
Puerto del Carmen - 4 Star
Completely refurbished and renovated in 2009, this spacious, modern complex offers good quality, comfortable accommodation with a warm and friendly atmosphere in an excellent location.
Sol Lanzarote
Puerto del Carmen - 4 Star
This aparthotel is located in Matagorda opposite the beach front, making easy access out onto the 8km long flat paseo. The beaches in this area are accessible with wooden cladded walkways. Good accommodation with plenty of entertaiment and activities.
Nautilus Lanzarote
Puerto del Carmen - 4 Star
This 4-star aparthotel is right next to the longest promenade in Europe, just 5 minutes from the beach, and is near a shopping centre featuring a range of bars, restaurants, and souvenir shops. Certified as a Biosphere Aparthotel and awarded by TripAdvisor Ecoleaders Programme with a platinum medal for sustainablity.
Floresta Hotel
Puerto del Carmen - 3 Star
Located only a few metres from the Playa de los Pocillos and a few kilometres from the airport. Perfect for the family it boasts well-maintained facilities such as a salt water swimming pool (heated) childrens entertainment and well cared for gardens.
Labranda Playa Club Apartments
Puerto del Carmen - 2 Star
This traditional-style apartment complex is situated close to the main beach road, and offers comfortable rooms and friendly service. It's in an ideal location close to all resort amenities.

Suite Hotel Fariones
Puerto del Carmen - 4 Star
Located just a step from Playa Grande and the Maritime Avenue of Puerto del Carmen, Suite Hotel Fariones is one of the most emblematic hotels in Lanzarote due to its excellent location, service, and facilities.